October 20 @ 7:00 am

-

5:00 pm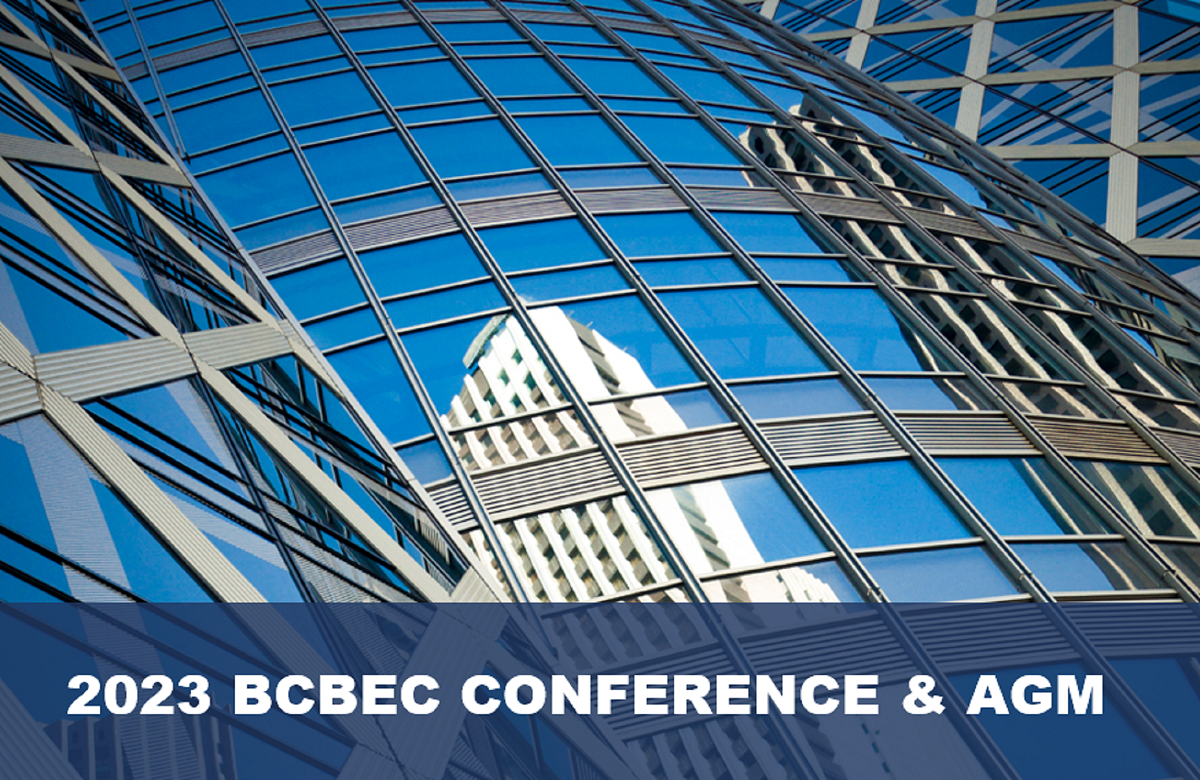 Friday, October 20th, 2023
JW Marriott Parq
39 Smithe Street
Vancouver, BC
7:00 am – 5:00 pm
Click here for Directions:  Getting to the Conference
Updated October 17, 2023 5:20am
Back to Basics and Beyond
BCBEC invites you to stay connected, current — and inspired!
With ever-increasing demands to design and construct higher performing buildings, and with so many people joining the building enclosure industry, this year's conference will focus on the fundamentals.
Join us as we examine the past and look beyond where we are today to explore what new industry standards and fundamentals should be established as the industry continues to grow and develop.
Topics for this full day seminar include:
▪ History of the Leaky Condo Crisis
▪ Low-E Coatings & Glazing Solutions
▪ Commercial Roofs & Climate Adaptation
▪ Carbon Perspectives for the Future
▪ Upcoming BC Building Code Changes
▪ Mass Timber
▪ Energy Audits
2023 BCBEC CONFERENCE & AGM Flyer
Click on picture for larger view (pdf)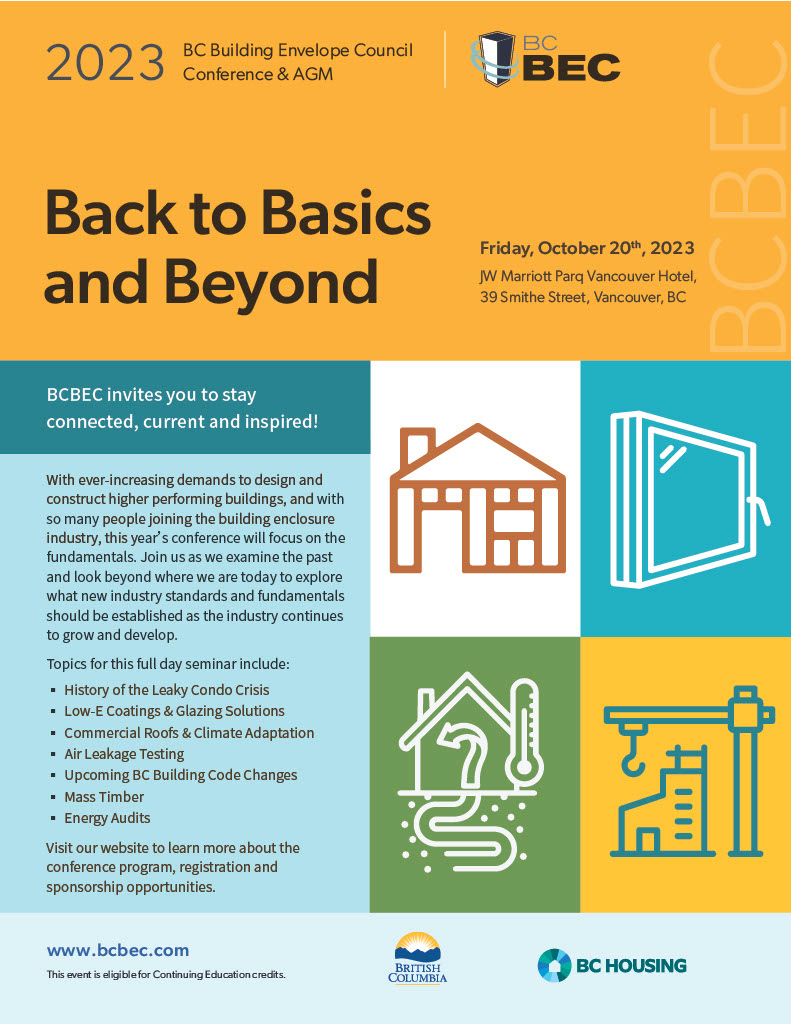 2023 BCBEC CONFERENCE & AGM Program
Click on picture for larger view (pdf)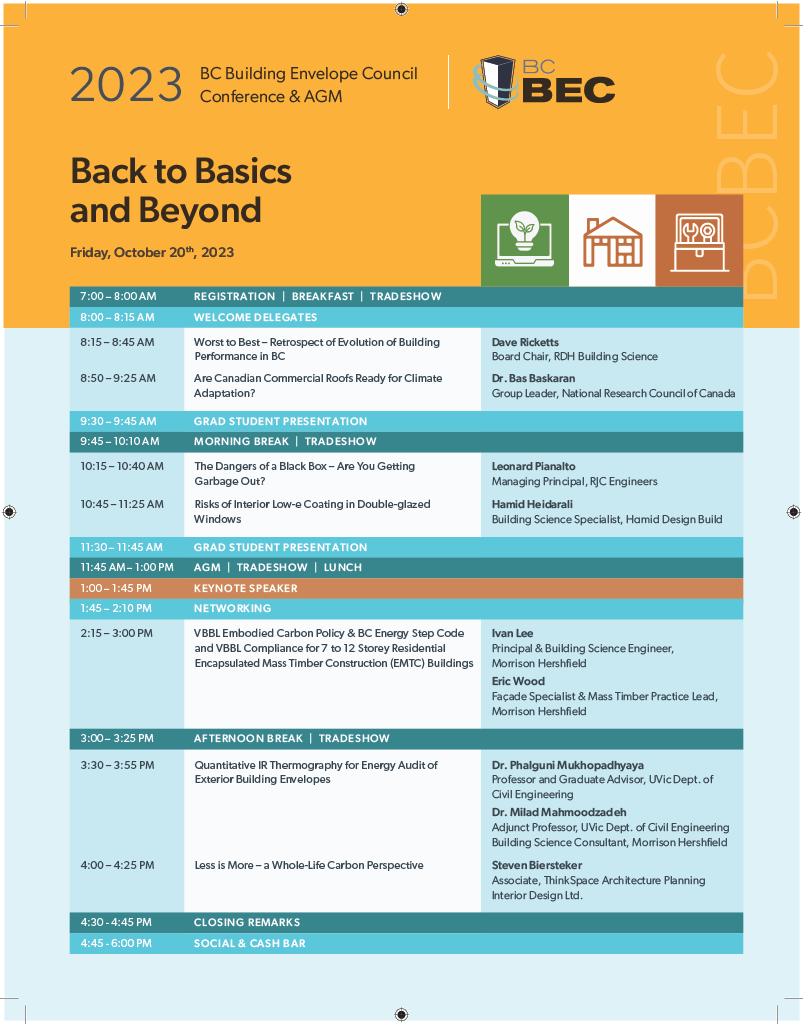 2023 BCBEC CONFERENCE SPEAKERS & PRESENTATION INFORMATION
Follow this link for Speakers & Presentation Information
2023 BCBEC CONFERENCE & AGM REGISTRATION
All Registrations must be accompanied with a 2023-24 Membership as well as a name and email address for each attendee. Please do not use one email address for multiple attendees.
If you are unsure if your Company/Organization has purchased a 2023-24 membership, please email BCBEC info@bcbec.com first before registering.
Corporate Groups of 10 or more will receive 10% Discount!
IMPORTANT DATES AND PRICING
Until Oct. 6
Individual or Corporate Membership + $330 Early Bird Price (per person) + GST
Student Membership + $75 (per person) + GST
Oct. 7 – Oct. 17
Individual or Corporate Membership + $400 Regular Price (per person) + GST
Student Membership + $75 (per person) + GST
Final Registration Date: Tuesday, October 17, 202 11:59pm
Oct. 20
Individual or Corporate or Student Membership + $450 Walk-up Price (per person) + GST
REFUNDS
No Refunds after Friday, October 13th Noon. Refunds will be offered before October 13th less $50 admin charge.
CONTINUING EDUCATION CREDITS: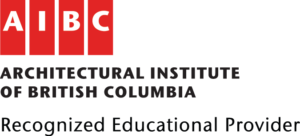 AIBC Course Credits: 3.75 Core Learning Units
BC Housing Course Credits: 4.0 CPDs
BCBEC will have forms for course credits available to attendees at the Conference & AGM.
FUNDING PARTNERS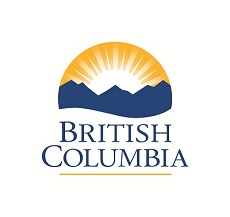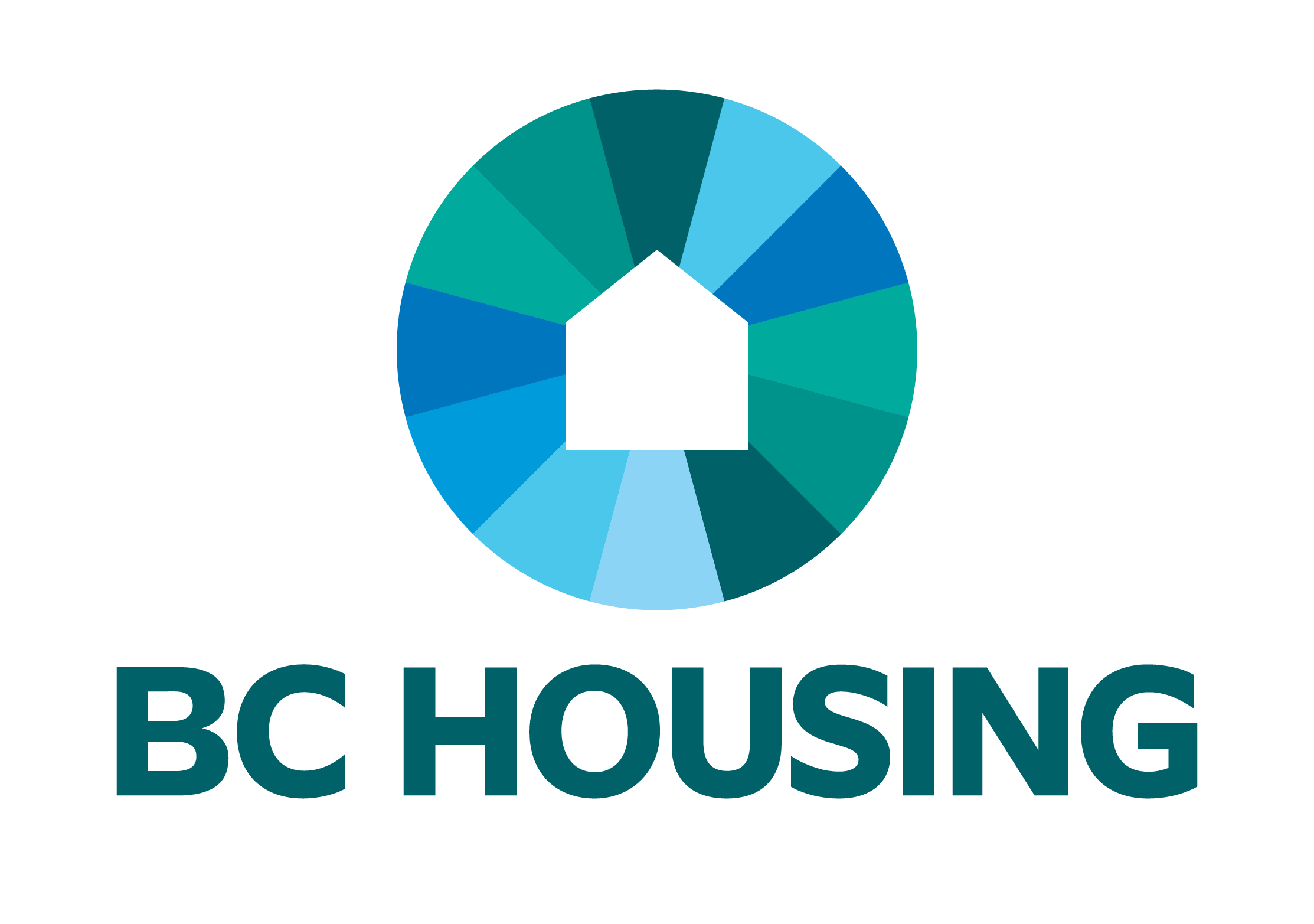 GOLD SPONSORS
Roofing Contractors Association of BC (RCABC)
EXHIBITOR SPONSORS
DuROCK Alfacing International Ltd.
Remdal Painting and Restoration
Silex Fiberglass Windows and Doors
TEC Agencies Ltd. / TEChnical Building Products

Vipeq Thermal Corkshield North Ltd.

2023 BCBEC CONFERENCE AND AGM SPONSORSHIP OPPORTUNITIES
The conference promises to be an excellent vehicle for corporate marketing and promotion. Please consider the following sponsorship categories:
Platinum, Gold & Exhibitor Sponsorships: Sponsorship Opportunities
Additional Sponsorship Representative (2 Maximum per Sponsorship): Additional Sponsorship Rep. Registration
Friends of Foundation Donation: How To Donate To BCBEC Foundation
ACCOMMODATION:
Please make arrangements for your own accommodation. BCBEC has not arranged for any special hotel rates.
Getting to the Conference:
Google Maps showing the location of the JW Marriott Parq is below
If driving: the hotel entrance is accessed off Pacific Blvd.
If taking transit: Yaletown-Roundhouse or Stadium-Chinatown stations
are nearby. Translink
At the Hotel: take the elevators to the 4th floor conference level.