November 4 @ 7:00 am

-

5:00 pm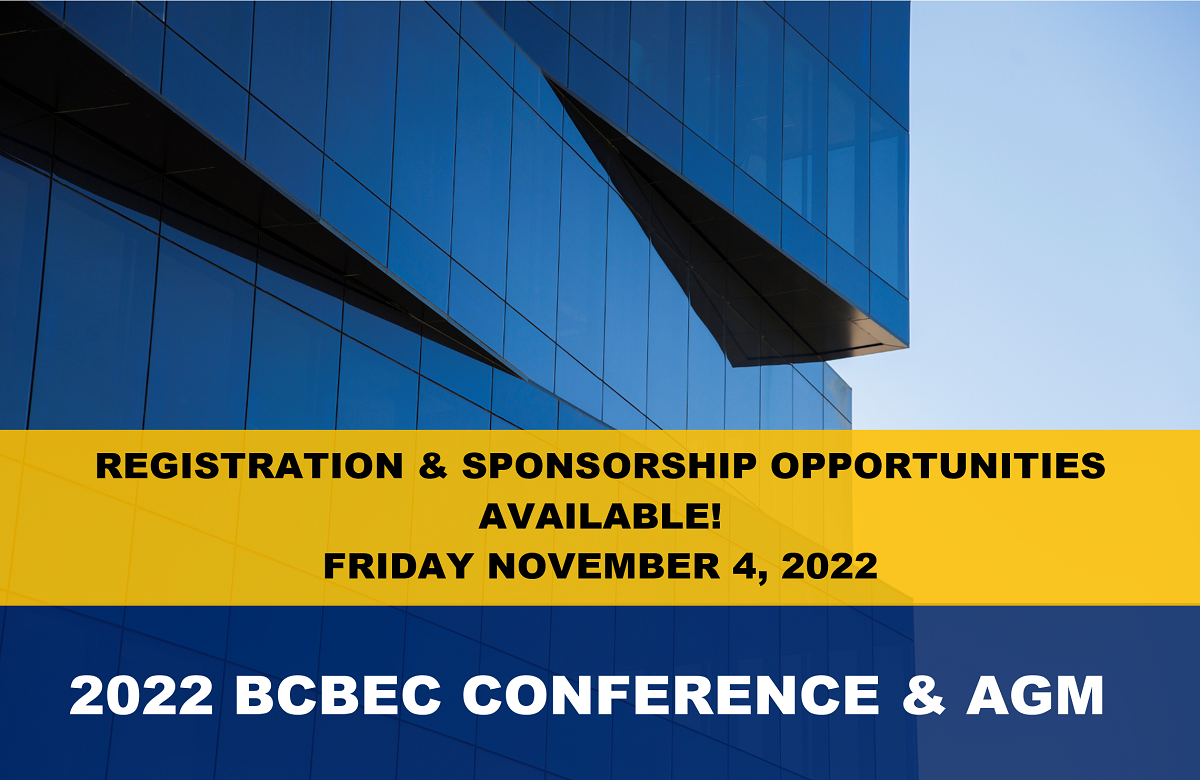 Building Resilience for a Changing Climate
Friday, November 4th, 2022
JW Marriott Parq
39 Smithe Street
Vancouver, BC
7:00 am – 5:00 pm
Click here for Directions:  Getting to the Conference
Updated September 28, 2022 1:45pm

BCBEC invites you to stay connected, current — and inspired!
The building envelope is key to a building's overall performance. Energy efficiency, sustainability,
mechanical design, constructability, and occupant comfort are all impacted by the design and
performance of the building envelope.
This year's full-day seminar provides an opportunity for industry-wide dialogue on these topics.
The session explores the challenges in designing, constructing, and repairing our buildings for greater
resiliency and energy efficiency for the future.
Join us for this full-day seminar to discover:
Embodied Carbon & Sustainability
Overheating Analysis & Mitigation for Existing Building Deep Energy Retrofit
Building Enclosure & Mechanical Optimization Through Energy Modelling
Design of Resilient Glazing Renewals
Constructability of High Performance Building Enclosure Details

2022 BCBEC CONFERENCE & AGM Flyer

Click on picture for larger view (pdf)



2022 BCBEC CONFERENCE & AGM Program:

7:00 – 8:00 am

REGISTRATION, BREAKFAST & TRADESHOW

8:00 – 8:15 am

WELCOME DELEGATES

8:15 – 9:05 am

High Performance Enclosure Details and Constructability
Ledcor Construction
Flynn Construction

9:05 – 10:00 am

Building Resiliency – It's Not Just a Mechanical Issue
Marie-France Venneri
& Marc Trudeau


AME Group

10:00 – 10:15 am

BCIT GRAD STUDENT PRESENTATIONS

10:00 – 10:30 am

MORNING BREAK & TRADESHOW

10:30 – 11:15 am

Updated code Changes for New Large Buildings in Vancouver

Patrick Enright


City of Vancouver

11:15 – 11:30 am

BCIT GRAD STUDENT PRESENTATIONS

11:30 – 12:30 am

AGM, TRADESHOW & LUNCH

12:30 – 1:15 pm

KEYNOTE SPEAKER

Julie Angus

1:30 – 2:15 pm

Below grade waterproofing – a geotechnical perspective
Horizon Engineering

2:15 – 2:45 pm

Roof design, Wind-RCI and adaptation to climate change

Bas Baskaram


NRC

2:45 – 3:15 pm

AFTERNOON BREAK & TRADESHOW

3:15 – 3:45 pm

Existing Building Deep Retrofit – Modeling Case Study

Ryan McNamara


RDH Building Science Inc.

3:45 – 4:15 pm

Glazing renewal – the finite life of IGUs is like death and taxes, you can't avoid it!
Mark Salerno
& Kevin Day
Sense Engineering

4:15 – 4:30 pm

CLOSING REMARKS

4:30 – 6:00 pm

SOCIAL & CASH BAR

2022 BCBEC CONFERENCE Speakers & Presentation Information:

Follow this link for Speakers & Presentation Information

2022 BCBEC CONFERENCE & AGM REGISTRATION:

All Registrations must be accompanied with a 2022-23 Membership as well as a name and email address for each attendee. Please do not use one email address for multiple attendees.

If you are unsure if your Company/Organization has purchased a 2022-23 membership, please email BCBEC info@bcbec.com first before registering.

Corporate *Groups of 10 or more will receive 10% Discount!

IMPORTANT DATES AND PRICING:

Please Note: Early Bird Pricing has been extended to October 21, 2022.

Until Oct. 21
Individual or Corporate Membership + $350 Early Bird Price (per person) + GST
Student Membership + $50 (per person) + GST

Oct. 21 – Nov. 2
Individual or Corporate Membership + $400 Regular Price (per person) + GST
Student Membership + $50 (per person) + GST

Final Registration Date: Wednesday, November 2, 2022 5:00pm

CONTINUING EDUCATION CREDITS:

More Information Coming Soon

FUNDING PARTNERS:

GOLD SPONSORS:

Roofing Contractors Association of BC (RCABC)

EXHIBITOR SPONSORS:

DuROCK Alfacing International Ltd.

Silex Fiberglass Windows and Doors

2022 BCBEC CONFERENCE AND AGM SPONSORSHIP OPPORTUNITIES:

The conference promises to be an excellent vehicle for corporate marketing and promotion. Please consider the following sponsorship categories:

Platinum, Gold & Exhibitor Sponsorships: Sponsorship Opportunities

Additional Sponsorship Representative: Additional Sponsorship Rep. Registration

Friends of Foundation Donation: How To Donate To BCBEC Foundation

ACCOMMODATION:

Please make arrangements for your own accommodation. BCBEC has not arranged for any special hotel rates.

Getting to the Conference:

Google Maps showing the location of the JW Marriott Parq is below

If driving: the hotel entrance is accessed off Pacific Blvd.

If taking transit: Yaletown-Roundhouse or Stadium-Chinatown stations
are nearby. Translink

At the Hotel: take the elevators to the 4th floor conference level.