October 30, 2020 @ 8:30 am

-

12:00 pm
2020 BCBEC HALF-DAY WEBINAR & AGM VIDEO AND PRESENTATIONS
Follow this link for 2020 BCBEC Half-Day Webinar Video and Presentations
Please Note: Considering the new environment and the impact that COVID-19 has had in our regular program, BCBEC has decided to reduce the cost of the membership. In the 2020-21 year we will be providing online sessions in lieu of our regular luncheons during this COVID-19 period.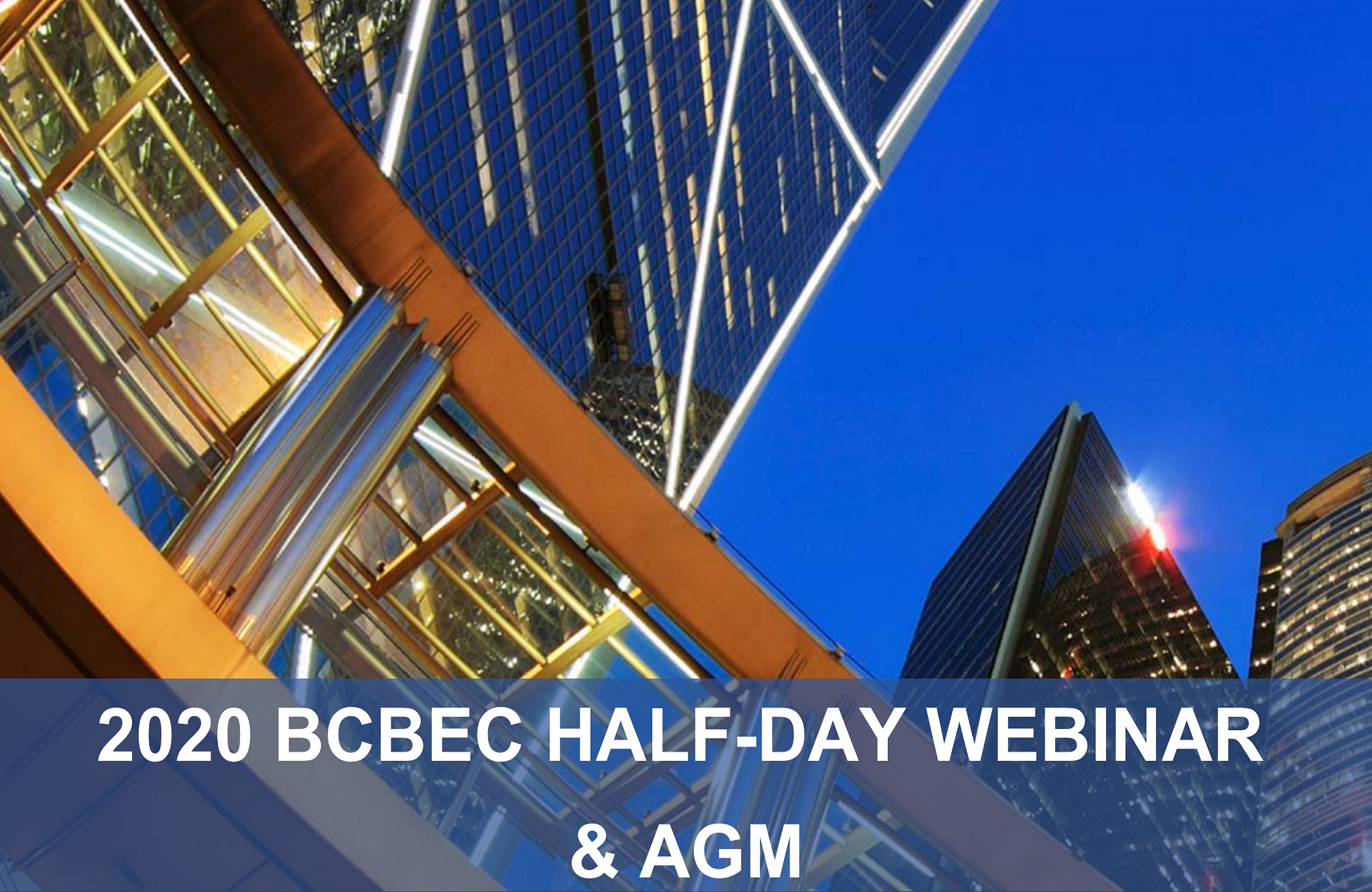 Friday, October 30th, 2020
Online Webinar
8:30 am – 12:00 pm
BCBEC invites you to stay connected, current and inspired!
Recent global events have highlighted the importance of considering both the interior and exterior performance of our buildings, particularly as they relate to indoor air quality, ventilation, and energy efficiency.
This year's virtual, half-day seminar provides a setting for industry-wide dialogue on these topics as we strive to build more resilient, durable and energy efficient structures for the future, while addressing challenges of the present.
Join us for this virtual half-day seminar to discover:
Embodied Carbon & Sustainability
Indoor Air Quality & COVID-19
Occupancy Related Ventilation Issues
Resilient Building Design
2020 BCBEC HALF-DAY WEBINAR & AGM FLYER:
Click on picture for larger view (pdf)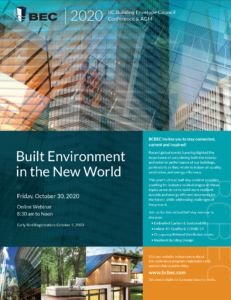 2020 BCBEC HALF-DAY WEBINAR & AGM PROGRAM:
Click on picture for larger view (pdf)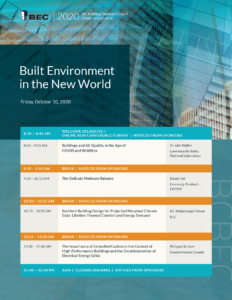 2020 BCBEC Half-Day Webinar Speakers & Presentation Information:
Follow this link for Speakers & Presentation Information
2020 BCBEC HALF-DAY WEBINAR & AGM REGISTRATION:
All Registrations must be accompanied with a 2020-21 Membership as well as a name and email address for each attendee.
Each Attendee will receive an email with link and instructions for access prior to the beginning of the Half-Day Webinar & AGM.
If you are unsure if your Company/Organization has purchased a 2020-21 membership, please email BCBEC info@bcbec.com first before registering.
Corporate (Up To 10 Attendees)*
IMPORTANT DATES:
Final Registration Deadline: Thursday, October 29, 2020 (12:00 pm)
* If your Company/Organization has already renewed their 2020-21 Corporate Membership, and you wish to add another Half-Day Webinar Attendee to a registration, please use the Corporate Registration Page Link above and scroll to the bottom of the page to find registration area.
CONTINUING EDUCATION CREDITS: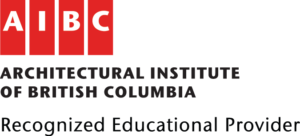 AIBC Course Credits: 3.0 Core Learning Units
BC Housing Course Credits: 2.5 CPDs
2020 BCBEC HALF-DAY WEBINAR AND AGM SPONSORSHIP OPPORTUNITIES:
Follow this link for Sponsorship Opportunities