Conference Presentation PDFs:
(Updated September 15, 2016)
Please note: presentation pdfs have been posted here.
Wednesday, Sept. 14th, 2016
Fairmont Hotel Vancouver
900 West Georgia Street
Vancouver, BC
8:00 am – 4:45 pm
This year, BCBEC has put together a compelling program for the 2016 Annual Conference and AGM. This one-day symposium provides the platform for industry wide knowledge exchange and thought-provoking conversation.
BCBEC invites you to stay connected, current, and inspired. Take part in the discussion of lessons learned drawn from past experiences, setting the stage for advanced solutions and innovation. Topics will include discussions on new liquid applied waterproofing membrane research, upcoming implementation of stretch codes, forensic investigation of glass failures, requirements on structural glazing, roofing insulation considerations, and case studies on high-profile building envelope projects. Material is put together by industry professionals, government officials, and leading experts.
This event is eligible for Continuing Education credits.
2016 BCBEC Conference & AGM Program: Click on picture for larger pdf view with links
(Updated July 12, 2016)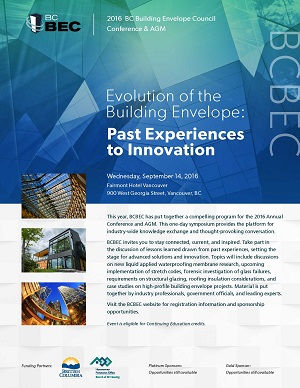 2016 BCBEC Conference & AGM Registration:
(Updated August 23, 2016)
Registration Deadline: Sunday, September 11th, 2016 (11:59 pm Midnight)
We have a limited number of walk-up seating this year so please register in advance to guarantee your seat at the conference. All WALK-UPS (non pre-registered attendees) must pay a blanket price of $375.00, including Students and Members.
All Registrations must be accompanied with a 2016-17 Membership.
If you are unsure if your Company/Organization has purchased a 2016-17 membership, please email BCBEC info@bcbec.com first before attempting to register.
* If your Company/Organization has already renewed their 2016-17 Corporate Membership, and you wish to add another Attendee to a registration, please use the "Additional Corporate AGM & Conference Attendees ONLY link.
Continuing Education Credits:
(Updated August 13, 2016)

AIBC Course Credits: 5.5 Core Learning Units
RCI Course Credits: 5.75 CEHs
HPO Course Credits: 6 CPDs
During the online registration process, the attendee(s) have the option to enter an information for Course Credits.
BCBEC will have forms for course credits available to attendees at the Conference & AGM.
Funding Partners: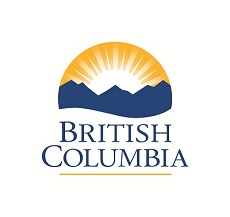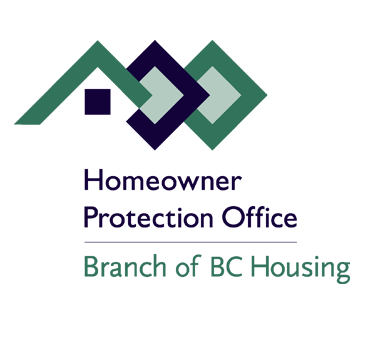 Platinum Sponsorship:

Gold Sponsorship: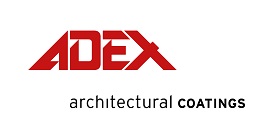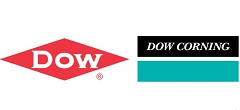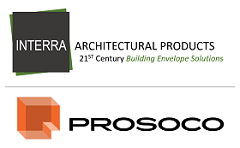 Silver Sponsorship: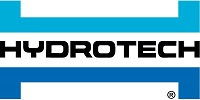 Exhibitors:
BCIT Building Science Graduate Program
Intercoast Building Solutions Inc.
SIGA
Tremco Sealants & Waterproofing
2016 BCBEC Conference and AGM Sponsorship Opportunities:
(Updated July 19, 2016)
The conference promises to be an excellent vehicle for corporate marketing and promotion. Please consider the following sponsorship categories:
Platinum Sponsorship: SOLD OUT
Gold Sponsorship: SOLD OUT
Silver Sponsorship: SOLD OUT
Exhibitors Sponsorship: SOLD OUT 
Additional Sponsorship Representative: Additional Sponsorship Rep. Registration
Friends of Foundation Donation: How To Donate To BCBEC Foundation
Accommodation:
Please make arrangements for your own accommodation. BCBEC has not arranged for any special hotel rates.