March 16 @ 11:30 am

-

2:00 pm
About the Presenter: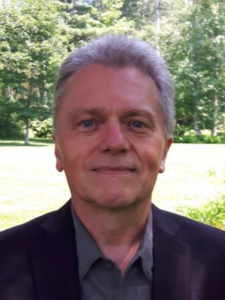 Andre Turrin, Technical Director
DuROCK Alfacing International Limited
Andre Turrin joined DuRock Alfacing in 1997 and in 2006 he assumed the role of Technical Director for the company.
DuRock is a founding member of the EIFS Council of Canada (ECC) and Andre represents DuRock on the ECC Board of Directors.
Andre is a member of the ECC Technical Committee and he is a member of the ULC Task Group on EIFS that developed the three CAN/ULC-S716 EIFS Standards that are referenced in the National Building Code of Canada.
Andre was also a member of the Canadian Commission on Building and Fire Codes (CCBFC) Joint Task Group that proposed changes to reference the S716 EIFS Standards in the National Building Code of Canada.
About the Topic: EIFS – Much More Than Just a Pretty Face
EIFS is an integral part of the building envelope that separates the indoor environment from the outdoor environment. The presentation relates EIFS to the applicable building code requirements regarding protection from precipitation, fire protection, air leakage control, condensation control, and thermal resistance. It furthermore relates those properties to sustainable, resilient, passive design.
The presentation also includes highlights of an independent life cycle costing and thermal performance study that compares EIFS to alternative cladding systems.
Attendees will acquire an understanding of EIFS as a viable option to other cladding systems and they will learn the value of placing the primary resistance to heat transfer and air leakage outboard of the structure.
REGISTRATION:
Please Note: All WALK-UPS (non pre-registered attendees) must pay a blanket price of $65.00, including Students and Members.
Education Credits:
This luncheon seminar qualifies for 1.0 AIBC Core Learning Unit. To receive credit, enter a valid AIBC Registration Number during the online registration process.
To register for this event, click on the following link: Vancouver Luncheon Thursday March 16, 2023