January 19 @ 11:30 am

-

2:00 pm
About the Presenter: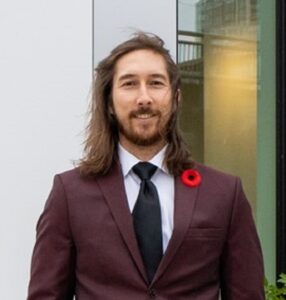 Cody Akira Belton, AScT, PTech, CPHD
Passive House Specialist, Building Enclosure Consultant
Morrison Hershfield
Cody is a Passive House Specialist with Morrison Hershfield's Building Specialty Services team. He has served as a Building Enclosure Consultant for over 14 years, with mature engineering knowledge in building science and experience developing building enclosure design packages for various building typologies, ranging from single-family homes to high-rise buildings. Cody has been a strong Passive House advocate since 2010 and eagerly promotes its benefits to anyone who cares to listen. He has trained product manufacturers and architecture firms transitioning into the high-performance sector, along with providing Passive House consultation and design implementation strategies for new building construction and retrofit projects. Cody is an enthusiastic communicator and champion for Passive House, sharing his passion with various networking groups by delivering presentations on the significant advantages of super-insulated building enclosure design.
About the Topic: Design Tools to Optimize High-Rise Passive House Buildings
Join Cody Akira Belton (Morrison Hershfield), presenting on Design Tools to Optimize High-Rise Passive House Buildings.
Passive House buildings have a reputation for unnecessarily thick building enclosure assemblies in Canadian climates. This is true if adding insulation to opaque assemblies to compensate for heat loss at weaker elements. If planned early in design, Building Enclosure Consultants and Energy Modellers can leverage custom thermal simulations at optimized high impact thermal bridges, such as window installations, as an effective strategy to reduce wall thickness, reduce embodied carbon emissions, meet low thermal energy demand targets, and potentially provide cost-effective solutions for the Developer/Owner.
Thermal bridging for high-rise buildings are less forgivable than Part 9 buildings with more thermal bridging locations, quantities, and more conductive materials. Improving critical thermal bridge locations with high impact to energy demand targets can result in better buildings, lower risk of interior mould/condensation, and enhance energy modelling as an optimization tool. The transition towards performance-based energy codes is here, and use of 2D and 3D thermal simulations will be imperative for resilient building enclosure design.
Learning Outcomes:
• Window installation design – finding a balance for constructability and performance.
• Use of 3D thermal simulations to assess thermal transmission and surface temperature to evaluate mould and condensation risk.
• Importance of accurate thermal bridge values at high impact building enclosure locations.
• Site-built opaque building exterior wall system suitable for high-rise Passive House buildings
SEMINAR PRESENTATION:
Design Tools to Optimize High-Rise Passive House Buildings

 

Cody Akira Belton
Morrison Hershfield
Jan 2023