January 16, 2020

-

January 17, 2020
(click on the picture for larger view)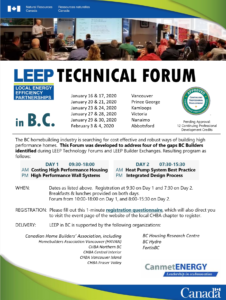 Join us at one of the upcoming Local Energy Efficiency Partnerships (LEEP) Technical Forums taking place at six locations across BC this winter.
Vancouver
Date: Thursday, January 16 & Friday, January 17
Location: Marriott Conference Centre, 4331 Dominion St. Burnaby
Registration: https://havan.ca/event/leep-technical-forum/
Prince George
Date: Monday, January 20 & Tuesday, January 21
Location: Sandman Signature Hotel, 2990 Recreation Pl, Prince George
Registration: https://www.chbanorthernbc.ca/education
Kamloops
Date: Thursday, January 23 & Friday, January 24
Location: Colombo Lodge, 814 Lorne St, Kamloops
Registration: https://www.chbaci.ca/eventcalendar.htm
Victoria
Date: Monday, January 27 & Tuesday, 28 January
Location: Hotel Grand Pacific, 463 Belleville St, Victoria
Registration: http://chbavi.com/
Nanaimo
Date: Wednesday, January 29 & Thursday, January 30
Location: Nanaimo Golf Club, 2800 Highland Blvd, Nanaimo
Registration: http://chbavi.com/
Abbotsford
Date: Monday, February 3 & Tuesday, February 4
Location: Quality Hotel & Conference Centre, 36035 N Parallel Rd, Abbotsford
Registration: https://chbafv.org/chbafv-events/
Led by Natural Resources Canada (NRCan), these events were developed to address four of the gaps BC builders identified during previous LEEP Technology Forums and LEEP Builder Exchanges.
Presentations are customized for each location to offer cutting-edge, cost effective and robust methods for building high performance homes. Topics include costing, wall system assembly, heat pumps, and the Integrated Design Process.
This annual forum also provides opportunities to:
learn best practices from technical experts that reviewed the 30+ LEEP field trial homes
engage with other builders on energy performance, the market, codes and programs
learn how you can participate in a new Net Zero Energy Ready field trial opportunity
Please Note
Please bring a laptop with Excel installed and with minimum two hours worth of battery life remaining. This will allow you to follow the LEEP Costing Tool demonstration more closely. If you do not have a laptop, please bring a USB to copy the costing tool to bring home to your computer.
Sponsors
The LEEP Forum is presented by NRCan and supported by BC Housing, FortisBC and BC Hydro
Agenda, Registration and More Information
Education Credits: BC Housing 12.5 CPD Points (Over Two Days)
Agenda: LEEP Technical Forum – Agenda and Registration