November 6, 2017

-

November 8, 2017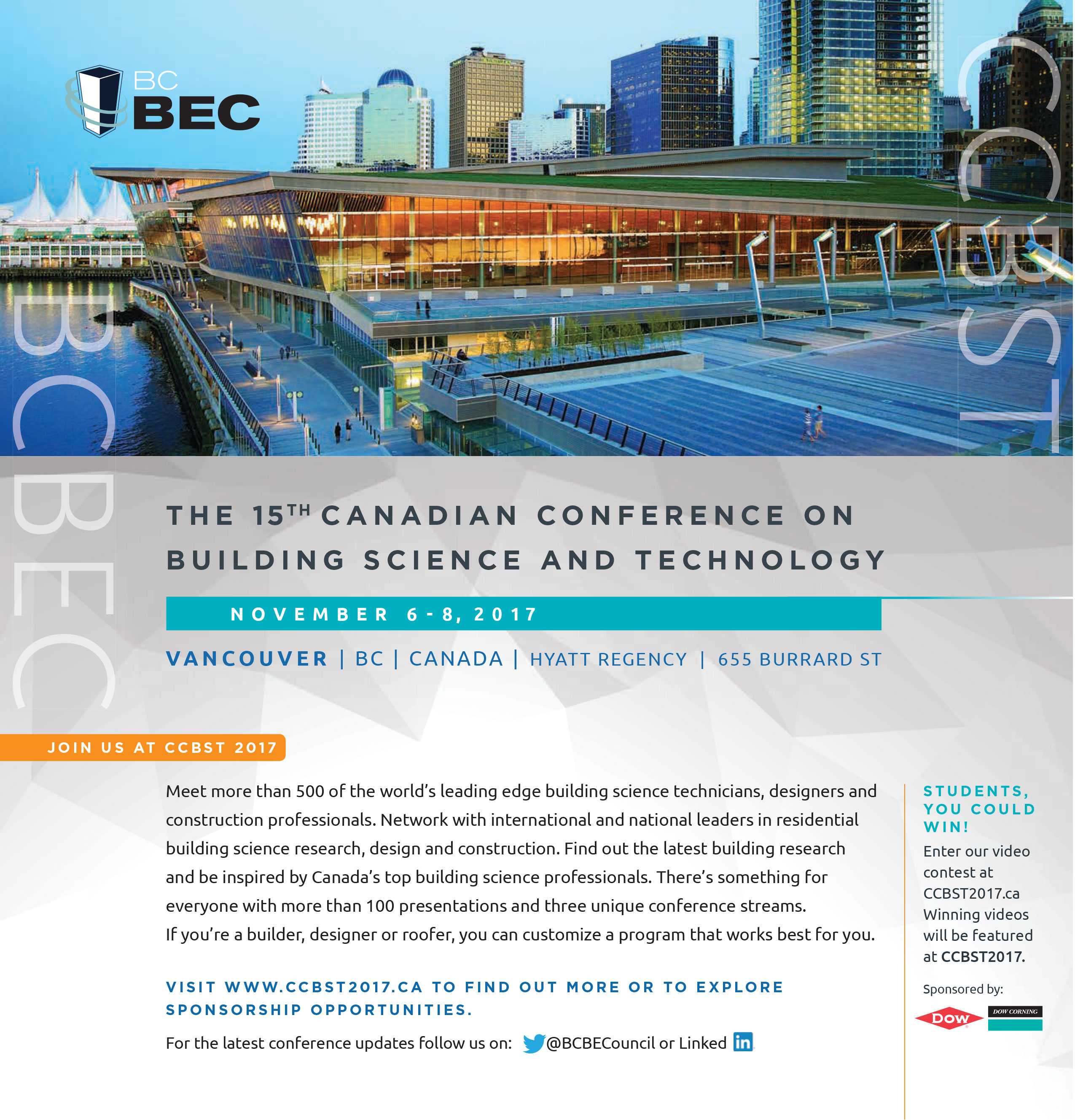 The 15th Canadian Building Science and Technology Conference (CCBST) was held from November 6th through 8th, 2017 at the Hyatt Regency in Vancouver, BC. This three day conference featured a multi-stream technical program for building science practitioners and researchers and much more! Attendees comprised of existing and new BEC members from across Canada with international attendees as well. The audience included representatives from builders, developers, architects, engineers, renovators, trade contractors, warranty providers, building suppliers, manufacturers, government and industry associations, etc.
CCBST 2017 Brochure: Download Brochure
CCBST 2017 Program at a Glance: Download Program at a Glance
CCBST 2017 Full Program: Download Full Program

CCBST 2017 PRESENTATIONS:
CCBST 2017 Papers/Presentations Portfolios: Download Presentation Portfolios
CCBST 2017 SPONSORS:
Sponsors Information can be found on the following link: CCBST 2017 Sponsors

CCBST 2017 STUDENT VIDEO COMPETITION:
We are privileged to announce the winners of our CCBST 2017 Student Video Competition.
At CCBST 2017 we showcased student project work completed across Canada, North America and the World by having presentations by video format competition. Submissions were viewed by conference attendees and the final judges were leading building science and building envelope experts from across Canada.
Prizes were awarded of: $1000 for First Place, $750 for Second Place, $500 for Third Place, and $500 for Viewers Choice Award.

FIRST PLACE
Pointing North: An Ice Hut Design
Created by: Yasmine Abou-Rabia, Laurentian University McEwen School of Architecture
First Place Winning Submission On YouTube

SECOND PLACE
Sewage Wastewater Heat Recovery System
Created by: Sanket Shah, New York Institute of Technology (NYIT) – Vancouver Campus – Department of Engineering and Computer Science
Second Place Winning Submission On YouTube

VIEWER'S CHOICE
Double Façade
Created by: Rohit Kumar Upadhyay and John Cheng Law, British Columbia Institute of Technology (BCIT) Building Science Graduate Program
Viewer's Choice Winning Submission On YouTube

CCBST 2017 PICTURE GALLERY:
Please check out the CCBST 2017 Picture Gallery!

CCBST CONFERENCE PAST & PRESENT PLUS PAST PROCEEDINGS INFORMATION
For Information on CCBST's History and Past Proceedings, please click on the following link:
CCBST Past & Present Plus Past Proceedings Information