April 28, 2022 @ 8:00 am

-

April 29, 2022 @ 5:00 pm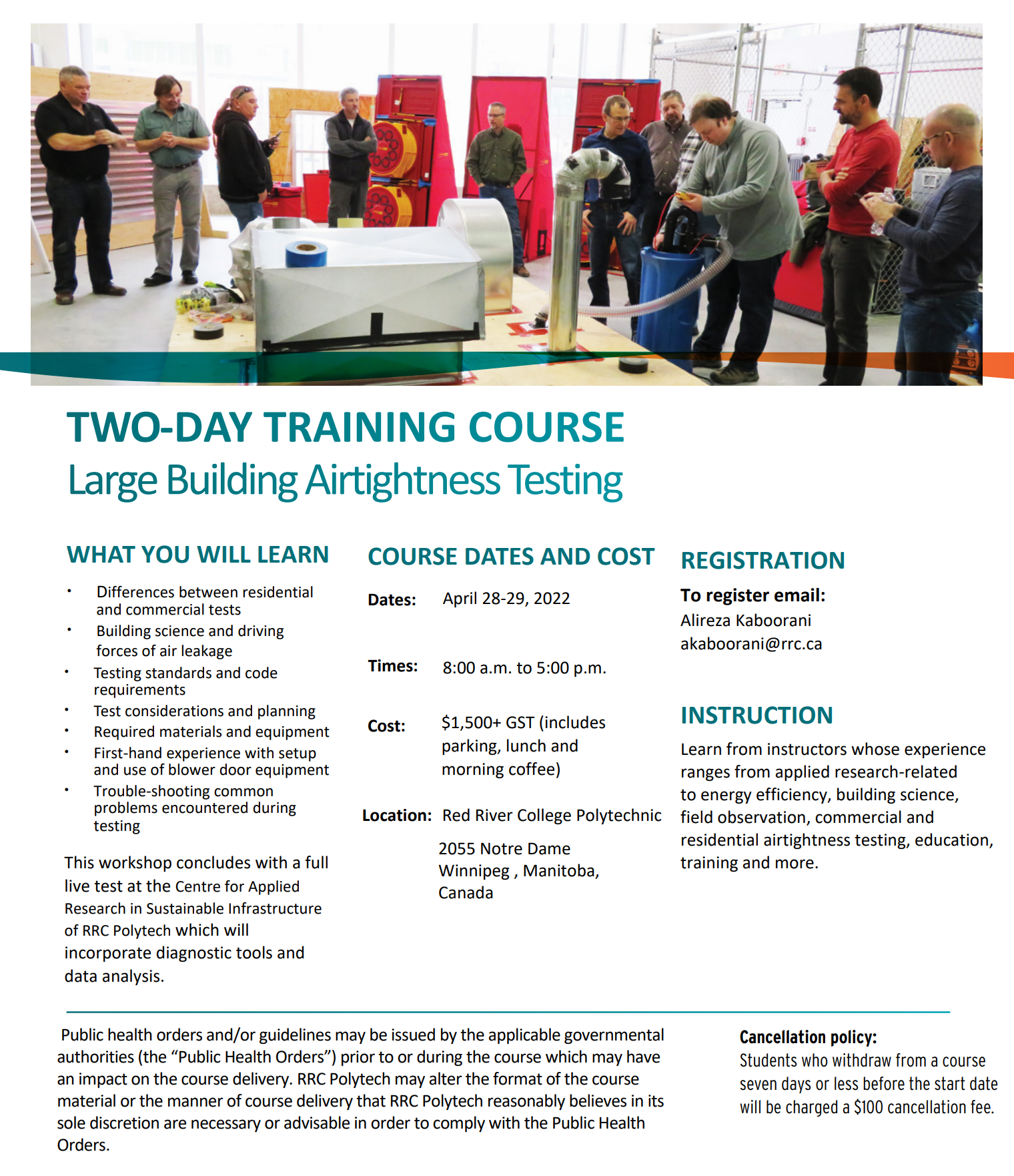 Building Envelope Technology Access Centre (BETAC) Presents
Two-Day Training Course Large Building Airtightness Testing
WHAT YOU WILL LEARN:
Differences between residential and commercial tests
Building science and driving forces of air leakage
Testing standards and code requirements
Test considerations and planning
Required materials and equipment
First-hand experience with setup and use of blower door equipment
Trouble-shooting common problems encountered during testing
This workshop concludes with a full live test at the Centre for Applied Research in Sustainable Infrastructure of RRC Polytech which will incorporate diagnostic tools and data analysis.
COURSE DATE, COST AND LOCATION:
Dates: April 28 – 29, 2022
Times: 8:00 a.m. to 5:00 p.m.
Cost: $1,500 + GST (includes parking, lunch and morning coffee)
Location: Red River College Polytechnic, 2055 Notre Dame Ave., Winnipeg, Manitoba, Canada

REGISTRATION AND INFORMATION:
To register email:
Alireza Kaboorani
akaboorani@rrc.ca

INSTRUCTION:
Learn from instructors whose experience ranges from applied research-related to energy efficiency, field observation, commercial and residential airtightness testing, commissioning, education, training and more.

Public health orders and/or guidelines may be issued by the applicable governmental authorities (the "Public Health Orders") prior to or during the course which may have an impact on the course delivery. RRC Polytech may alter the format of the course material or the manner of course delivery that RRC Polytech reasonably believes in its sole discretion are necessary or advisable in order to comply with the Public Health Orders.

Cancellation policy:
Students who withdraw from a course seven days or less before the start date will be charged a $100 cancellation fee.