October 8, 2021 @ 8:30 am

-

12:30 pm
BUILDING RE-IMAGINED
Friday, October 8th, 2021
Online Webinar
2021 BCBEC HALF-DAY WEBINAR & AGM FLYER:
Click on picture for larger view (pdf)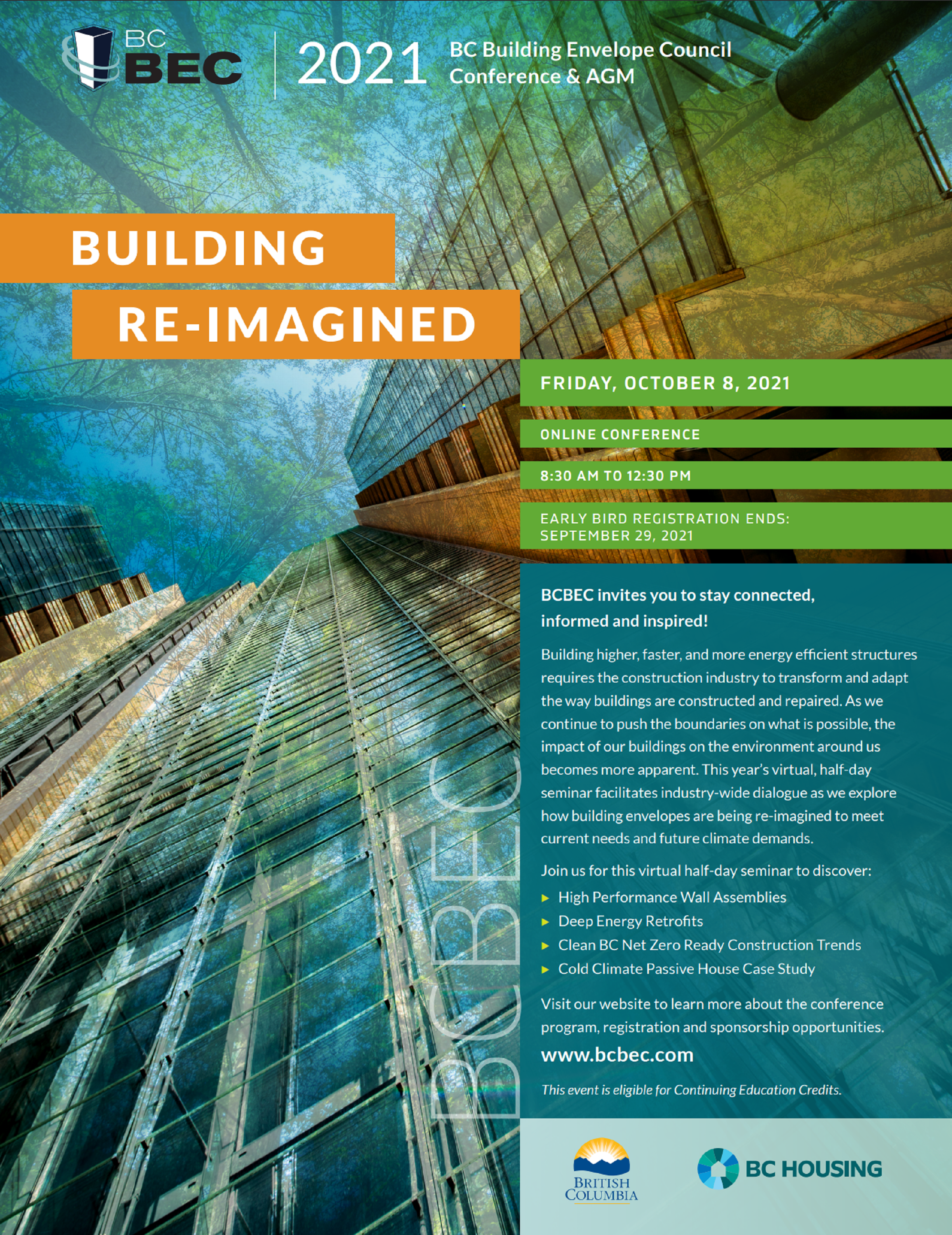 2021 BCBEC HALF-DAY WEBINAR & AGM PROGRAM:
Click on picture for larger view (pdf)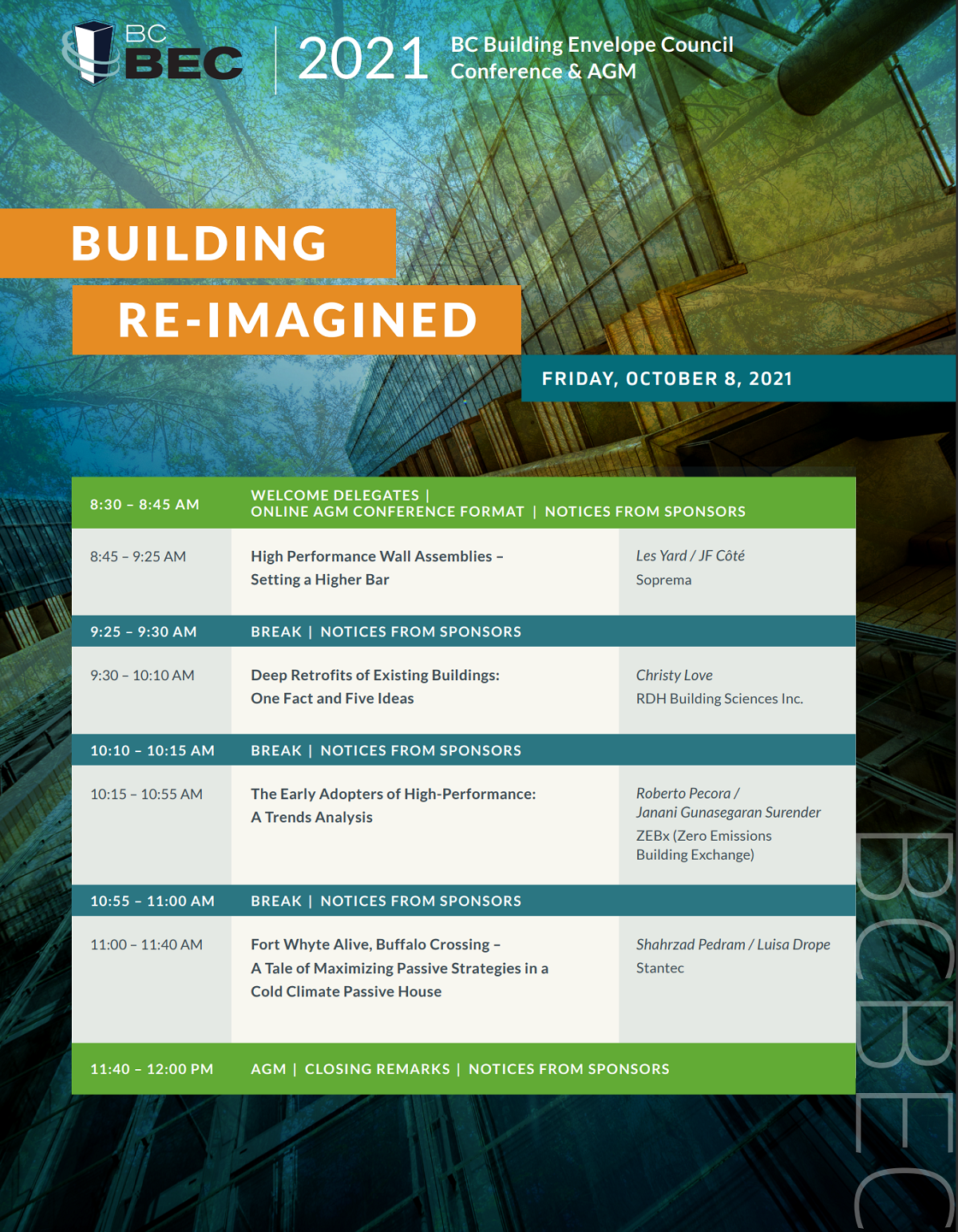 Speakers' Bios and Presentation Summaries:
8:45 – 9:25 AM
Presentation: High Performance Wall Assemblies – Setting a Higher Bar
More stringent energy codes and a desire for high performance wall construction is challenging the industry to re-think the status quo. In an effort to provide the industry with choice and to better understand how to meet these lofty goals, manufacturers, construction professionals, industry and government are increasingly working together to meet the challenge. No longer is meeting minimum building and energy code sufficient to satisfy regulators and increasingly sophisticated owners. Multi-dimensional thinking is required. This presentation outlines diverse efforts to provide a safe, cost effective and constructable approach to meeting high performance wall assemblies.

Presenters: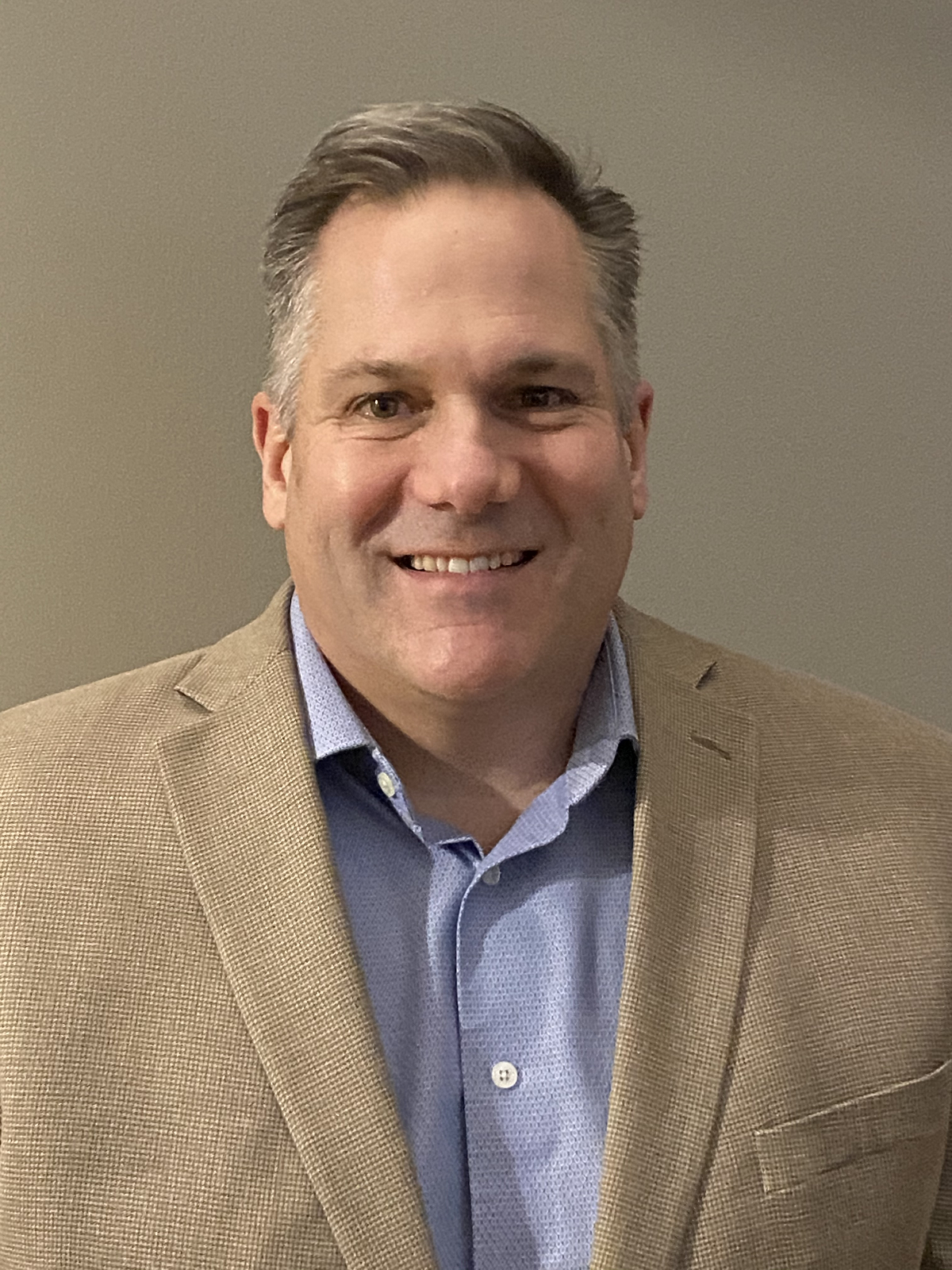 Les Yard, Building Envelope System Development Manager – Western Canada
Soprema
Les Yard is a senior building envelope technical professional with over 20 years of experience in the construction industry. Les is a frequent presenter and has co-authored a number of technical articles. Key career highlights include serving as a board member and President of the British Columbia Building Envelope Council and acting as a co-chair of the Canadian Conference on Building Science and Technology in 2017.
As a member of the Strategy and Innovation Group at Soprema, Les is committed to developing systems and assemblies that meet and exceed building, fire and energy codes while considering the significant challenges facing our industry today including climate change, durability, resiliency, environmental concerns, cost effectiveness, constructability and a significant impending shortage of experienced trade contractors.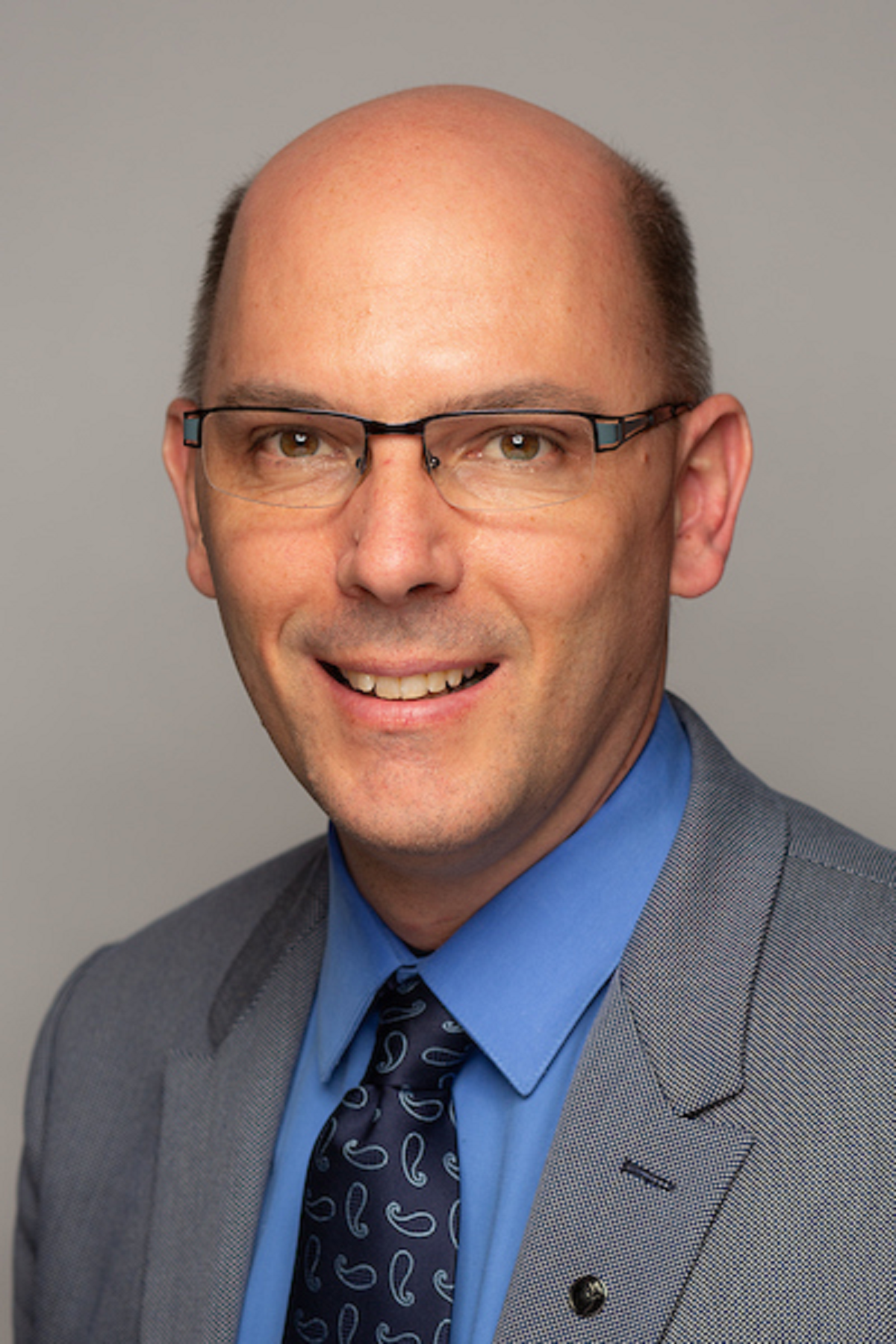 JEAN-FRANÇOIS CÔTÉ, Director, Standards and Scientific Affairs
Soprema
Jean-François Côté holds a Bachelor's degree in Chemistry from Université de Sherbrooke and a Ph.D. in Materials Science from INRS-Université du Québec obtained in 1998. He joined Soprema in 1999 as a research chemist where he worked on the development of adhesives and sealants used in roofing and civil engineering. From 2009 to 2015, he was Director of Strategic Development for Soprema, coordinating the activities of the Canadian R&D and technical departments of the organization. In his current role, he represents Soprema on technical committees of industry associations (ARMA, PIMA, CIMAC) and is actively engaged in various North American standards development organizations (CSA, ASTM, ULC).
He is a registered chemist in the province of Québec (OCQ), is vice-chair of the ASTM D08 Committee on "Roofing and Waterproofing", and is chair of the CSA A123 technical committee on Roofing Materials.



9:30 – 10:10 AM
Presentation: Deep Retrofits of Existing Buildings: One Fact and Five Ideas
As deep retrofits are considered by more and more client groups, organizations, and levels of government, there is a growing need to provide templated solutions that ideally address both climate change mitigation and adaptation. While a large commercial building owner may have the appetite and resources to fund a detailed study to evaluate retrofit solutions, smaller less well-resourced clients are in need of easily-identifiable and -implementable solutions. These buildings represent the places where the majority of us live and work.
Christy will illustrate some of the drivers and solutions for deep retrofits with a focus on recently completed projects for smaller buildings. Drawing from numerous multi-disciplinary field and desktop studies and implemented projects, Christy will share emerging commonalities to generate discussion on how these solutions might be more broadly applied.

Presenter: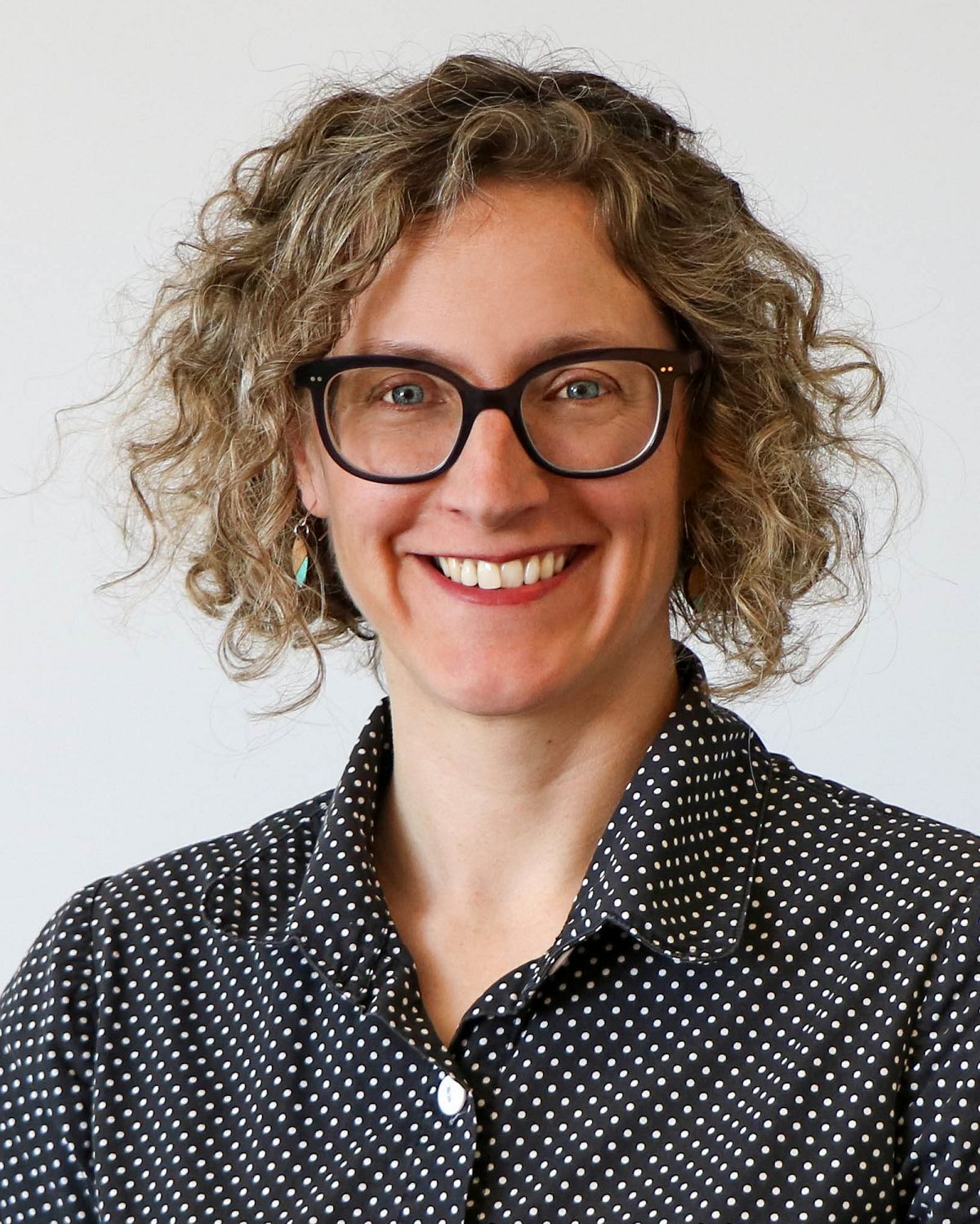 Christy Love, P.Eng., CPHC
Principal, Senior Project Manager at RDH Building Science Inc.
Christy Love is a senior project engineer with an emphasis on efficient building systems, research, and sustainability. She holds a Bachelor of Arts in Anthropology from McGill University and a Bachelor of Applied Science in civil engineering from the UBC and has nearly 20 years' experience designing, evaluating, and researching energy-, carbon- and water-efficient solutions for the built environment. Her focus over the last several years has been on improving the performance of existing buildings and supporting the development of related policy and programs.


10:15 – 10:55 AM
Presentation: The Early Adopters of High-Performance: A Trends Analysis
The Net-Zero Energy-Ready (NZER) Challenge is a CleanBC incentive program for Part 3 buildings, launched in late 2018. In addition to providing significant financial support for developments targeting NZER levels of performance, the program aims to celebrate, promote and learn from these early adopters of ultra-energy-efficient design. A jury selected 11 winning projects from over 50 applications and of these finalists, nine building are ready for construction tender, under construction or completed. ZEBx is producing case studies on all the finalists, but for this BCBEC conference, ZEBx will present a comparative overview of the nine buildings. The presentation will focus on some of the architectural (and some mechanical) features which make these buildings excellent examples of future high-performance building design.

Presenters: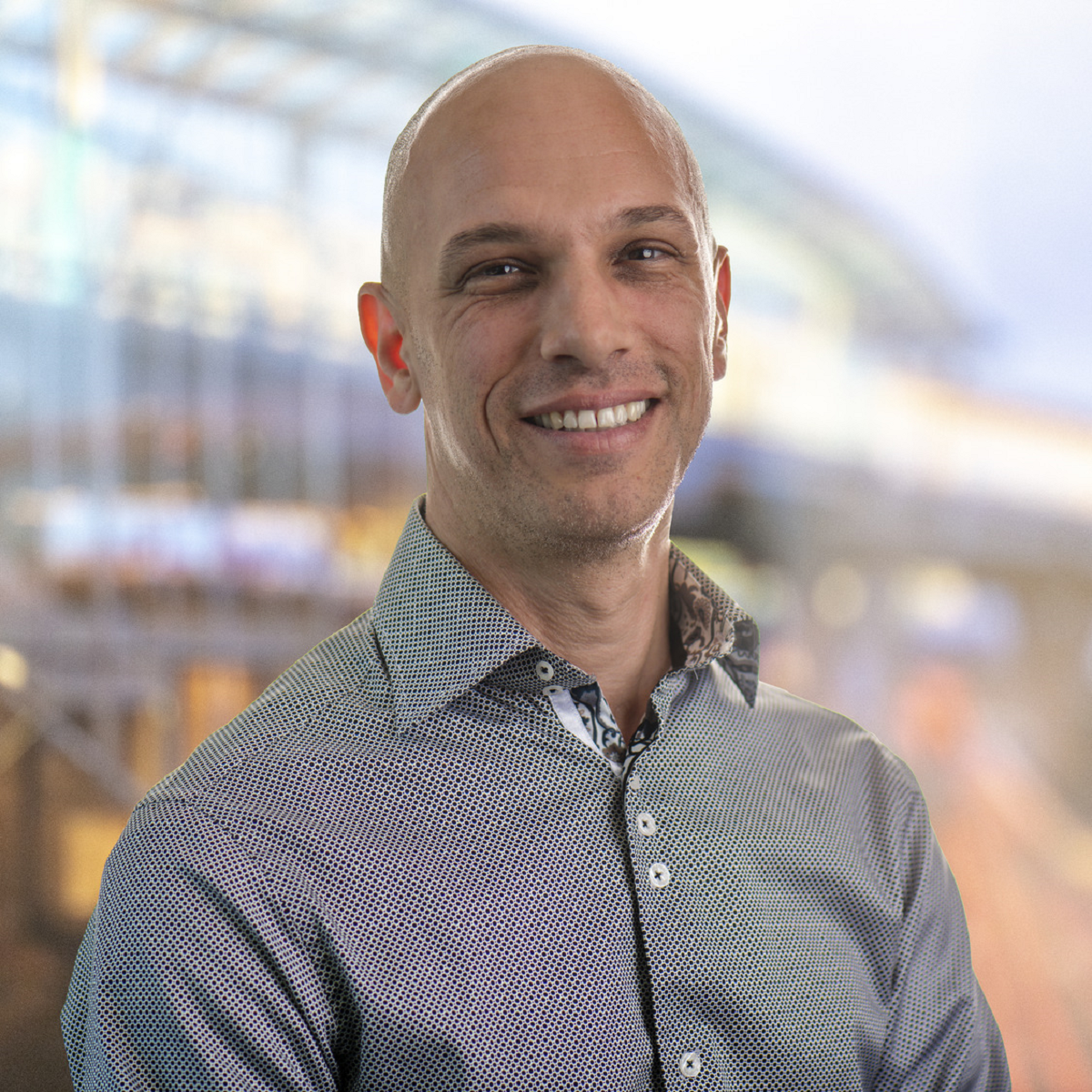 Roberto Pecora, P.Eng., CEM, LEED AP, SMT
Director of Programs, ZEBx
Roberto's journey through the building industry extends back almost two decades and includes stops in Ottawa and Montreal before settling in Vancouver ten years ago. He has extensive experience in both new construction and existing buildings. Roberto has successfully taken on project management roles for subcontractors, a general contractor and a national project management firm. In the eight years before joining ZEBx, he worked in the building science group of a national consulting engineering firm, specializing in building assessments, capital planning, asset management and most recently, energy studies and energy management. Roberto is very well acquainted with the real estate, property management, consulting and construction industries. Most importantly, he has a deep-rooted desire in transforming the building industry to reduce its impact on climate change.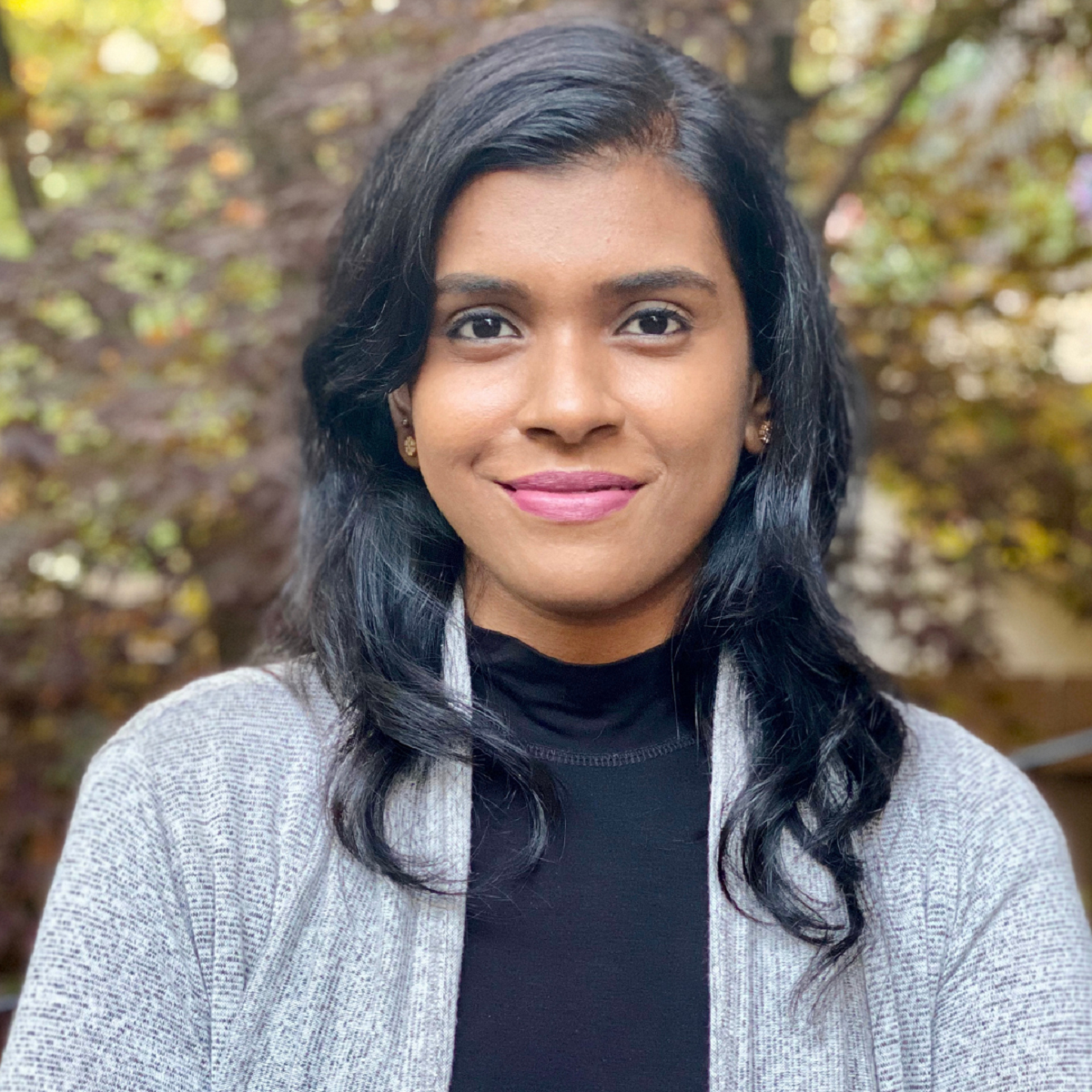 Janani Gunasegaran Surender, MEL, CPHD, LEED AP (BD+C)
Program and Research Coordinator, ZEBx.
Janani supports ZEBx's applied research and knowledge dissemination of advanced sustainable technologies and high-performance building projects in British Columbia. With a background in Architecture, she is a MEL High-Performance Buildings' graduate from the University Of British Columbia. She has an in-depth knowledge of high-performance building design strategies, building energy systems, latest green building standards, and sustainability policies. Janani has dedicated her career to passionately advocate for solutions to create a healthy built environment.


10:55 – 11:40 AM
Presentation: Fort Whyte Alive Buffalo Crossing: Maximizing passive strategies in a cold climate Passive House
Located southwest of Winnipeg, MB, FortWhyte Alive (FWA) is an interactive outdoor centre dedicated to providing environmental education and recreation. Buffalo Crossing is the newest development at FWA, and is slated to be a high-performance building incorporating low-embodied carbon materials, design to adapt to a warming climate, ultra-low energy demand to the Passive House standard, and a targeted service life of 100 years. This presentation will give an overview of the early design considerations that challenged the design team to meet the project charter's ambitious goals. Massing studies were used to inform the building shape and orientation to maximize solar gains for heating, while natural ventilation and operable shades are used to balance cooling demand. A lake on site is used as a heat exchanger to further reduce the building heating and cooling loads. The building enclosure is designed to meet high efficiency targets set by PHPP as well as durability and service life requirement for the project, including glazing products certified by the Passive House Institute for a cold climate.

Presenters: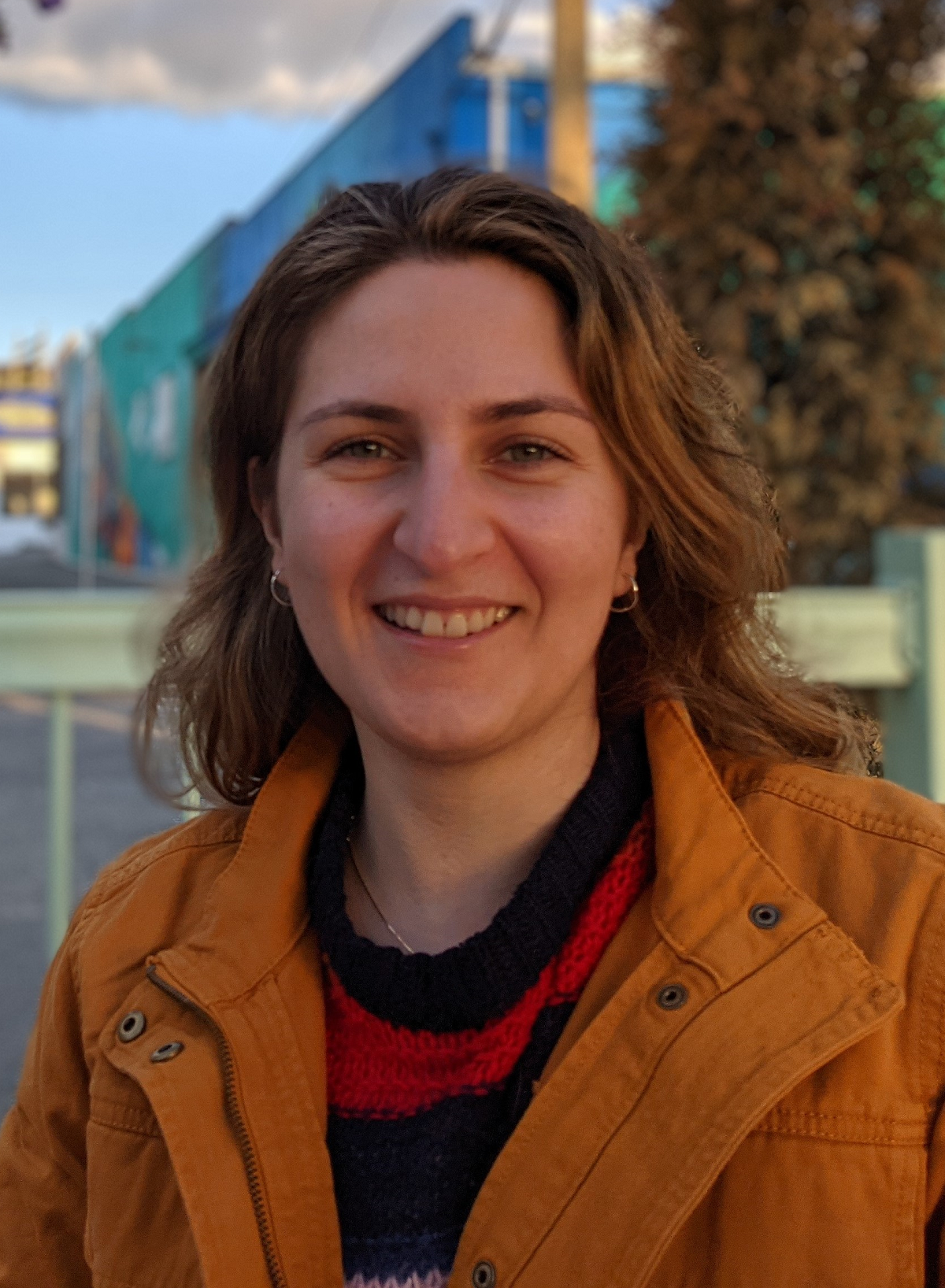 Shahrzad Pedram, Building Science Engineer
Stantec Consulting Ltd.
Shahrzad is a Building Science Engineer with a passion for high-performance buildings. With her background in building science and building enclosure engineering, she brings practical, constructible, and pragmatic solutions to new construction and existing building projects. She has been involved on a number of high-performance projects throughout Canada. Shahrzad enjoys educating clients, designers, and contractors on best practices and methods to aid meet ambitious project goals.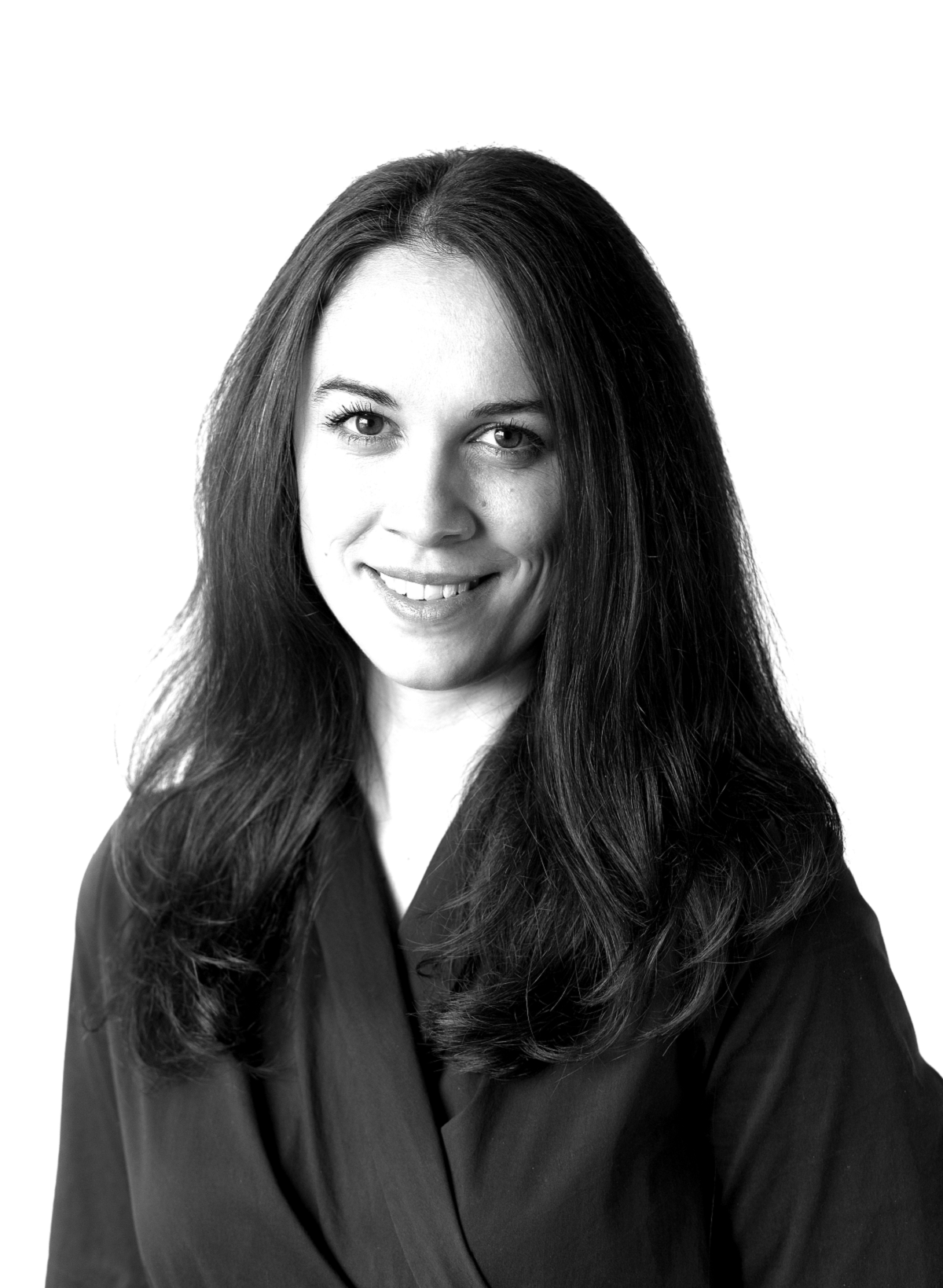 Luisa Drope, Building Performance Consultant
Stantec Consulting Ltd.
Luisa is a Building Performance Consultant with a technical background in energy-efficient building design and renewable energy. With a Master of Engineering in Energy Efficient and Sustainable Buildings from the Technical University of Cottbus in Germany, and her years of experience in energy modelling, Luisa can provide cost-effective engineering solutions for high performance buildings. Luisa is experienced in creating building energy models using a variety of different tools to support design teams in achieving project targets. In her role as a Certified Passive House Consultant, she can provide weather analysis, as well as parametric studies to find the optimal shape and orientation of a building at early-stage design.


Page Updated October 6, 2021 4:10 pm