November 8, 2019 @ 7:00 am

-

5:00 pm
ADAPTING TO CHANGE – BUILDING RESILIENT ENCLOSURES
Friday, November 8th, 2019
JW Marriott Parq
39 Smithe Street
Vancouver, BC
7:00 am – 5:00 pm


2019 BCBEC CONFERENCE & AGM Program:
Click on picture for larger view (pdf)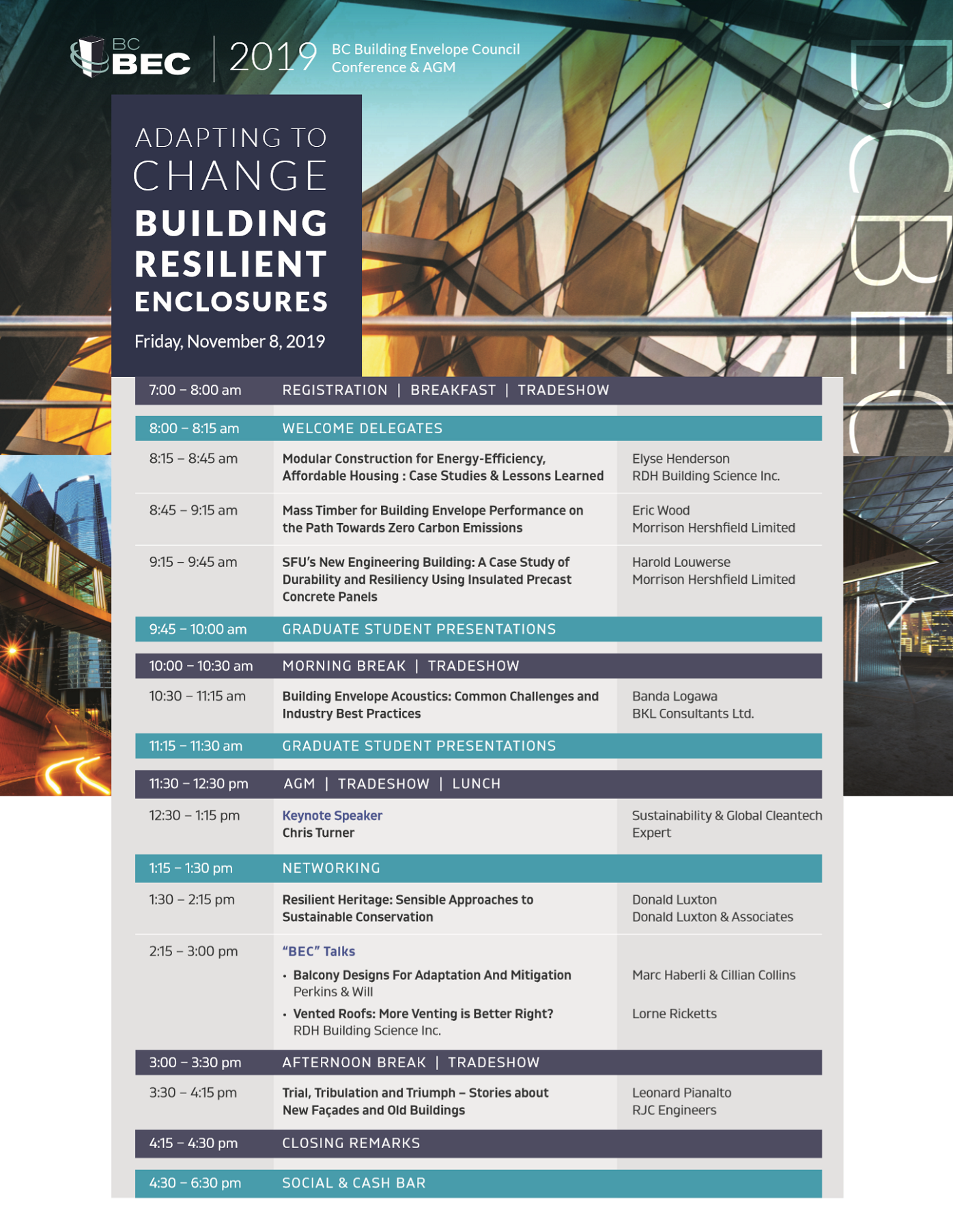 2019 BCBEC CONFERENCE & AGM Presentations:
Follow this link for PDF files from this event:
2019 Conference & AGM Presentations


Speakers' Bios and Detailed Conference Presentation Summaries: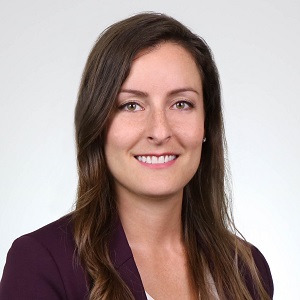 Elyse Henderson, M.SC., CMVP, LEED Green Associate | Energy and Sustainability Analyst
RDH Building Science Inc.
Elyse Henderson is an Energy and Sustainability Analyst with RDH Building Science Inc. specializing in energy efficiency consulting and building science research. Her work includes whole-building energy modelling, emission reduction feasibility studies, and research to inform policy and program development. Elyse leads research to evaluate energy, greenhouse gas, and incremental costs for energy retrofits of existing condominiums, commercial buildings, and non-profit housing in British Columbia. Elyse also contributes to knowledge dissemination of new policies and best practices through the development of industry guideline material such as the Illustrated Builder Guide to the BC Energy Step Code.
Presentation: Modular Construction for Energy-Efficient, Affordable Housing: Case Studies & Lessons Learned
Modular construction is becoming an effective strategy for reaching high performance energy targets in affordable housing projects. This presentation will provide an overview of how modular construction was used to achieve project goals in three case studies: staff accommodations striving for Passive House in a remote community in northern BC, a BC Energy Step Code (Step 3) temporary homeless shelter in the Lower Mainland of BC, and a steel-framed modular building in Canada's Far North. Key lessons learned from these case studies will be discussed as well as recommendations for scaling up this construction strategy to meet sustainable and affordable housing needs throughout Canada.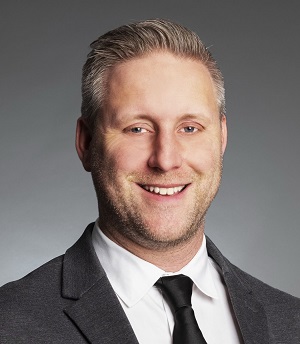 Eric Wood, Tall Wood / Façade Specialist
Morrison Hershfield Limited
Eric Wood has a comprehensive understanding of performance envelope systems and techniques related to mass timber structures. He is a technical subject matter expert within the Façade Specialist Engineering Group having spent the past several years overseeing the commercialization of mass timber and unitized building components for commercial, residential, and multi-family construction. Eric's experience includes a variety of wood and mass timber construction projects with a specific focus on digital fabrication, specialty engineering, and innovative connections.
Presentation: Mass Timber for Building Envelope Performance on the Path Towards Zero Carbon Emissions
The building envelope is an integral part of architectural expression and is quickly becoming the innovative system utilized to realize carbon emission reduction goals. More and more the building envelope's roofing, glazing, and waterproofing assemblies include Mass Timber. These assemblies are critical for ensuring durability but challenged to increase envelope performance without creating environmental barrier deficiencies.
On the path towards Zero Carbon Emissions, the implications of building envelope performance are increasingly harder to ignore, as the traditional trade off of efficiencies from the MEP systems can no longer account for the poor envelope performance. Instead, the full potential of each is needed to leverage increased carbon offsets. Mass Timber is carbon sequestering, rather than carbon intensive, and capable of replacing steel and concrete as a buildings structural frame and enclosure. Mass Timber is also far less conductive than concrete or steel, pivotal for reducing thermal bridging.
New simulation models have derived in part from the increased pressure energy codes place on envelope performance, as well as from the advances in research and increased capability of computer simulations to analyze envelope assemblies. Mass Timber's inherent level of precision is a compelling reason for furthering digital innovation by combining simulation data with 3D digital fabrication. Structural, manufacturing, and prefabrication designers can employ new digital tools to visualize and explore innovative structural connections while ensuring strategic integration with the building structure and the major MEP building systems.
Mass Timber digital design is becoming the solution for proving constructability, predictability of schedule, and sustainability while delivering an ideal process and data necessary for compiling a comprehensive Life Cycle Assessment (LCA). Ultimately, LCA confirms the potential for achieving zero carbon emissions when building with Mass Timber, while building with wood provides a renewed capacity for architectural aesthetic expression and envelope performance.


Harold Louwerse, Eng.L., B.Tech, RRO – Principal, Building Science Consultant
Morrison Hershfield Limited
Harold Louwerse is a Building Science Consultant with over 13 years of experience. He is knowledgeable and experienced in building science with respect to cladding, glazing and roofing systems. Harold has worked on a variety of projects including both new construction and investigation/remediation.
Presentation: SFU's New Engineering Bulding: A Case Study of Durability and Resiliency Using Insulated Precast Concrete Panels
The presentation will provide an overview of the precast panel assembly and its advantages/disadvantages over the poured-in-place concrete wall. The focus will be on at SFU's new Sustainable Energy and Environmental Engineering building in Surrey, BC. The building façade features alternating strips of white insulated precast sandwich panels and curtain wall glazing, resembling a geometric pattern of electrical circuit boards. The building was built on a fast-track schedule and required preformed assemblies to not only allow the building to meet tight government funding deadlines, but also provided a high performance and sustainable building with reduced maintenance to meet SFU's facility requirements. The presentation will discuss the design and construction challenges and the solutions implemented to mitigate those challenges effectively.
Banda Logawa joined BKL in 2017 after completing his graduate studies in acoustics under the supervision of the late Dr. Murray Hodgson, head of the Acoustics and Noise Research Group (ANRG) at University of British Columbia. Banda has been involved in numerous architectural and environmental acoustics projects in a wide range of sectors throughout British Columbia. He has provided building envelope design recommendations to control noise from SkyTrain, freight trains, aircraft, road traffic and others. Banda is also a passionate educator, and serves as an engineering instructor at Capilano University. He looks forward sharing the fusion of his insights and BKL's 50-year accumulated knowledge.
Presentation: Building Envelope Acoustics: Common Challenges and Industry Best Practices
Banda is going to do a presentation on the various environmental acoustics challenges that we are currently facing in BC, different standards and regulations which may be applicable depending on the location of the project and noise sources at the project site, and best practices on noise control solutions which can be implemented in building envelope design.
Keynote Speaker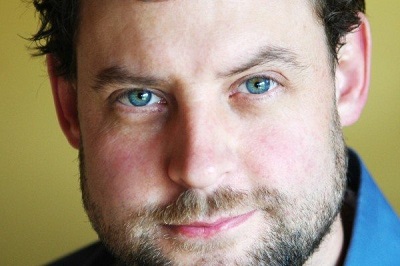 Chris Turner
Sustainability & Cleantech Expert
Chris Turner is an author, speaker and strategist, providing Canada's authoritative voice on sustainability and the global cleantech boom. He's the author of The War on Science, and the bestsellers, The Geography of Hope: A Tour of the World We Need and The Great Leap: How to Survive and Thrive in the Sustainable Economy where he sheds light on the global sustainability movement. His reporting on energy, climate and sustainability issues appears regularly in The Walrus, The Globe & Mail, Canadian Geographic and many other publications.
Presentation: Taking the Leap: Embracing the Sustainable Economy
Chris Turner is one of the world's leading voices on climate change solutions and the global energy transition, who draws on recent breakthroughs in state-of-the-art renewable energy and urban design to paint a vivid portrait of a new, sustainable world order that will allow individuals and businesses alike not only to survive but to thrive in the twenty-first century economy. Come and hear Mr. Turner as he speaks about ways that we can embrace the challenge of climate change and develop a more sustainable local economy.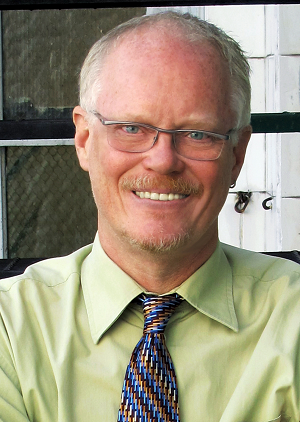 Donald Luxton
Donald Luxton & Associates
Donald Luxton is one of Canada's foremost heritage and cultural resource management consultants. Since 1983, he has worked on numerous projects throughout western Canada, including municipal planning projects, heritage registers, the restoration of residential, commercial, and institutional buildings, and the development of museums and cultural facilities. Well known as an advocate, educator and author, he serves as a sessional lecturer in the BCIT Architectural Science degree program. He is the co-author of Lions Gate, a graphic recreation of the history and construction of Vancouver's landmark Lions Gate Bridge that won numerous literary and heritage awards. Building the West: The Early Architects of British Columbia was awarded the Heritage Canada Achievement Award in 2003 and a BC Book Prize in 2004. His interest in the preservation of architecture has led to his continuing involvement with a number of heritage societies, including his role as a founding Director of the Victoria Heritage Foundation, as a Director of the Vancouver Heritage Foundation and as President of Heritage Vancouver from 2004-13. In 2007, he was elected to the College of Fellows of the Royal Architectural Institute of Canada.
Presentation: Resilient Heritage: Sensible Approaches to Sustainable Conservation
An ever-increasing focus on building performance has led to many new challenges in the conservation of heritage buildings. One-size fits all solutions in our building codes and policies do not recognize either the inherent performance of existing buildings or the many alternative ways in which building performance can be improved without destroying heritage character. This presentation will provide an assessment of current policy risks to our heritage buildings, and explore different alternate approaches to upgrades and compliance.
Marc Haberli is an Associate with Perkins & Will's Calgary studio He has over 10 years of experience working internationally on mixed use, transportation, multi-family, commercial, and research projects. As a practicing architect Marc expresses a keen interest for addressing social and environmental issues through research driven design. He is involved in research on building and energy performance studies in cold weather climates, technology driven design and fabrication processes, architectural integration of urban agriculture, and is the lead researcher on the Thermally Broken Balcony report.
"BEC" Talks: Balcony Designs For Adaptation And Mitigation
Balconies typically represent a significant thermal bridge and are commonly a component that pose particular difficulty for designers and builders. Recognizing the inherent benefits of balconies associated with passive shading and enhancing occupants connection to the outdoors, Perkins+Will in conjunction with RDH is working on a study to review balcony design options. This presentation is intended to provide an overview of the impact of thermal bridging for each of the balcony types to allow designers and builder to understand the impact of balcony design early in the design process.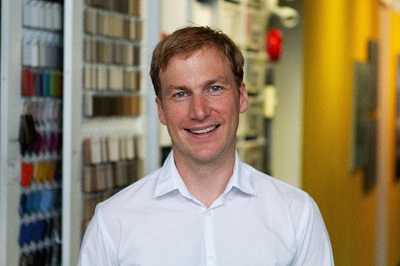 Cillian Collins
Perkins & Will
Cillian Collins is a Senior Architect with Perkins & Will Vancouver and also Chair of Passive House Canada Education committee, involved in curriculum development, teaching and advocating for the Passive House standard in Canada. Cillian works closely with the in-house research and sustainability department to provide guidance to project teams on what needs to be accounted for from conceptual design through tender and beyond to post occupancy when aiming for higher performance levels.
"BEC" Talks: Balcony Designs For Adaptation And Mitigation
Balconies typically represent a significant thermal bridge and are commonly a component that pose particular difficulty for designers and builders. Recognizing the inherent benefits of balconies associated with passive shading and enhancing occupants connection to the outdoors, Perkins+Will in conjunction with RDH is working on a study to review balcony design options. This presentation is intended to provide an overview of the impact of thermal bridging for each of the balcony types to allow designers and builder to understand the impact of balcony design early in the design process.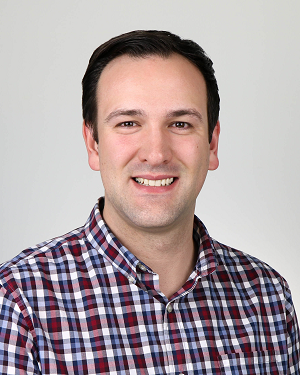 Lorne Ricketts, MASc, P.Eng.
RDH Building Science Inc.
Lorne Ricketts is a Principal and Building Science Specialist with RDH Building Science Inc. specializing in new construction, investigation, and research work with typical projects including designing building enclosure systems, hygrothermal and thermal analysis, and testing and monitoring of building performance. Lorne is currently leading a project to investigate the performance of low-slope vented wood-frame roof assemblies through a combination of surveying, field monitoring and testing, and hygrothermal modelling.
Presentation: "BEC" Talks: Vented Roofs: More Venting is Better, Right?
Vented wood-frame low-slope roofs are common, but anecdotal evidence suggests performance issues are relatively common. This presentation will provide a succinct summary of an ongoing research study investigation the performance of these roof types and potential strategies to improve their performance in the coastal Pacific Northwest climate.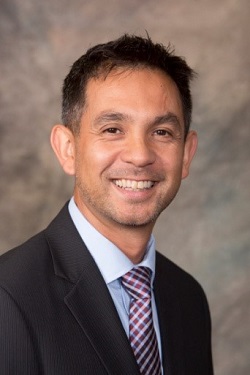 Leonard Pianalto
Read Jones Christoffersen Ltd.
Leonard Pianalto is an Associate and Group Leader in the Building Science and Restoration Team at Read Jones Christoffersen. His work is focused in the areas of glazing and cladding, and fall protection. In addition to his project experience, Leonard is passionate about making a contribution to industry and the community as reflected in his publications and committee involvement. He is also a part time instructor at BCIT in the School of Construction and the Environment.
Presentation: Trial, Tribulation and Triumph – Stories about New Façades and Old Buildings
We are living in a time where many of our existing buildings are approaching their design service life. Energy costs continue to rise along with expectations for building occupant comfort. This talk will present case studies to explore three approaches to extending the life of the building including partial façade retrofit and glass replacement; installation of a new veneer system over the existing framing; and full replacement of the complete building skin.

(Page Updated October 28, 2019 4:25 pm)